Contractor Payments: Everything You Need to Know
6 Oct 2021
13 mins read
Posted in
An organization is only as extraordinary as its people. If this statement is true for a giant corporation, it's doubly so for up-and-coming, young startups. After all, when you only have a handful of people working in your organization, how they think, feel and function end up shaping your brand identity.
If your organization has started working with more freelancers and contractors over the last year, you're certainly not alone — over 61% of businesses are actually planning to increase freelancer engagements.
While most organizations acknowledge the importance of finding and managing external talent, they often overlook the crucial step that comes after — that of making timely contractor payments. Ignoring this can be quite a costly mistake, both literally and figuratively!
When contractors are not paid in an accurate and timely manner, they are likely to stop working for their clients. In an economy where businesses are all clamouring for the best talent, developing a reputation as a poor paymaster can make matters complicated. But there's another consequence to be mindful of — payment delays can expose your business to legal disputes and disagreements, which can even impact your financial credibility in the future.
Things to consider before choosing how to pay your contractor
Given these implications, it's safe to say that it is pretty important to streamline contractor payments. But before you go about putting the right processes in place, there are a few important questions and considerations you will need to keep in mind.
Contractor classification
Although 'contractor' is often used as a sweeping term to refer to any external worker, the correct legal classification is extremely important as it will dictate the payment process you need to follow.
Broadly, your contractors may be classified in two ways. Professionals who are self-employed (and whom you have engaged for a short-term requirement) may typically be classified as freelancers, independent contractors or 1099 contractors. These workers are in complete control of whom they want to work with, and are responsible for their own taxes, insurances, perks and benefits.
On the other hand, if you have engaged a skilled professional through an agency or an outsourcing company, and have booked their services for the duration of a longer term project, they may be classified as W-2 contractors. Though they are responsible for their own taxes, the outsourcing company they are working with may offer them some perks and insurance benefits. Do note that sometimes, contractors may own a limited company themselves, and enjoy greater control over whom they work with. This increases their similarities with freelancers, thus making classification a little more complex.
Taxes
Based on the classification, you will need to fill out different tax forms and documents for independent contractors or W-9 contractors. Make sure you have the correct details for all your contractors on record because any inaccuracies might result in hefty fines, either for you or for them.
For instance, if your independent contractor fails to give you their Tax Identification Number (TIN), or if you have the wrong one on file, you will need to hold back a part of their payment as backup withholdings. This is why having a streamlined onboarding process is so important — it ensures that you already have the correct details in place, long before you have to start making payments.
Number of contractors
If you are working with just one or two contractors, paying them manually may be simple enough. But this gets exponentially complicated as you bring more contractors on board. Verifying their timesheets, cross-checking their charges, carrying out the right documentations and maintaining accurate records for audits become very laborious over time. To add to this, each person's contractor payment terms may stipulate different charges and methods by which they will need to be paid. Beyond a point, automating the payment process might be the smarter option, especially if you are planning to use contractors over the long term.
Contractor geographies
This brings in an added layer of complexity to the contractor payment process. While local payments might be easy enough to handle, international payments involve extra bank authorisations, processing fees and conversion charges. These are all factors that you will need to account for as you set your project budgets and timelines. If you are working with global contractors on a larger scale, it might be worth it to opt for a payment process that facilitates easy and cheap international transactions.
Payment frequency
Here again, a one-time payment is easy enough to process manually — and even if it involves a high processing fee, that may not make a huge dent in your project budget overall. But seeing how most banks add a margin of 5-6% to the exchange rate, and processing invoices manually can cost you about $30 on an average for each invoice, these fees add up if you are paying the contractor(s) on a recurring basis. So setting up an automated payment process might be a good idea.
Types of contractor payment
Depending on the considerations above, you may find that your contractor payments fall in one of two broad categories:
The weekly contractor timesheet cycle
This contractor payment schedule is typically adopted when you engage workers who charge on an hourly basis. In this case, the contractor will submit a detailed list of their hours to you for approval every week. Once you have verified and signed off on it, they will send you the weekly invoice, which you will need to pass on to your accounts department. If you are working with W-2 contractors, the invoice will not come from the workers themselves — their agency or outsourcing company will generate the invoice, and you will have to pay the company.

Monthly and direct payments
This method is more common with independent contractors who have per day charges or fixed-price contracts, rather than tracking their time on a weekly basis. Here, they will directly send you a detailed invoice at the end of the month, outlining the work done and the rate that was agreed upon beforehand. If the contractor has their own limited company, their invoices will include VAT as well. Here on, the process is pretty similar — you will need to check the invoice, approve it and send it to your accounts department to process the payment.
Late payments and how to solve it
Despite best intentions, there are lots of reasons why your contractor payments might be delayed. This is especially true if you're handling these payments manually. Checking and approving every contractor's timesheets can be arduous and can create bottlenecks as your managers struggle to process them all. Moreover, with several contractors reporting to different managers, there's always a chance that one or two invoices go astray. Locating these across various inboxes or asking contractors to send them again might take time. The accounts team might also need a few days to clear all the invoices. Even after this, you may have to factor in bank delays in case you're using cheques or direct transfers.
The trick to minimising these delays is to automate as many steps as you can. A good payment portal helps you streamline some of these processes, thereby reducing the scope for manual delays and human error. TalentDesk, for example, allows contractors to raise worksheets against each task — which your managers can easily cross check and approve with a click. There on, the system consolidates all approved worksheets and generates a single invoice, thus ensuring that your accounts team is not inundated with hundreds of individual invoices to process. Once the payment is made, the system will also disburse the correct amounts to individual contractors, automatically following a set payment cycle.
Best ways to pay contractors
Once you have considered all the factors involved and have ascertained the payment cycle you will have to follow, it's time to decide how to pay your contractors. There are lots of options to choose from, but here are some of the most common methods:
Online payment portals
Portals like TalentDesk, PayPal, Wordlpay and Wise function as great contractor payment systems because of how fluid and versatile they are. These portals usually enable you to make both domestic and international transfers easily, and have shorter processing time when compared to banks. When it comes to conversion rates and processing fees too, they work out to be much cheaper than traditional methods. However, not every portal works in every country, so do consider which countries your contractors are based in and ensure that the online system is supported in that geography. A tool like TalentDesk, which facilitates contractor payments in 150+ countries (through partnerships with various providers including Wise, Worldpay and Payoneer) is an easy choice.
Cheques
This is an easy, traditional way of making contractor payments as it requires no elaborate implementation — you can simply write a cheque and mail it to the recipient. However, in the modern context, it might not necessarily be the best option as it does not work for international talent. Some local contractors may also refuse to accept paper cheques, especially if they haven't worked with you before. This is because cheques can be slow to arrive, have the risk of getting lost in transit — and of course, there's always the chance that they might bounce.
Credit card
Credit card payments are much faster and a lot more secure. It doesn't expose your account details unnecessarily, and most banks offer increased layers of security to guarantee safety. However, for this mode of payment to work, your contractor will need to have a merchant account or set up a payment gateway through some app.

Electronic Fund Transfers (EFTs)
This refers to transferring money directly to your contractors' bank accounts. This method is quick and easy and is preferred by both independent contractors and clients. It requires no system set-ups, and if you already have your bank's app, you may be able to make transfers seamlessly from your phone. The downside to this contractor payment method however, becomes more obvious when you are making international transfers. Bank conversion rates are not the most lucrative, and they usually charge high processing fees, both at your end and at the recipient's.
Accounting software
Accounting software helps you keep track of project budgets and expenses, but some tools also have features that facilitate invoicing and payments. These tools usually link every invoice to specific ongoing projects, and record all the payment details for audits. This gives you a more comprehensive solution, allowing you to handle several aspects of accounts and finances with a single software. If you work with many international contractors on a fairly regular basis, this might be a great option for you.
Ready to choose a great contractor payment system?
With so many great options in the market, choosing the right system for your organization might seem daunting. However, if you take all these aspects of contractor payments into consideration, you will soon be able to prioritise the features you really need, based on the way your organization operates.
An end-to-end system like TalentDesk is a great option because it brings together several crucial features within one platform. Not only does it function as a payment portal, it also has various talent management and work allocation capabilities, which are extremely important when it comes to working with contractors. This eases the process substantially and enables you to optimise the benefits of having freelancers and contractors as a part of your team.
The importance of hiring great candidates for your startup
Challenging though it may be, it is well worth the effort to get this step right and hire the right candidates. In the early stages, your talent will determine how successfully you tackle those first few, reputation-building projects. Your team will also help set the culture of your organization. Given that most companies are working in a remote environment, establishing a strong, cohesive company culture is more challenging than ever before. That is why it is crucial to have people who identify with your company's purpose and vision, and are just as passionate about the brand mission as you are.
But the importance of great talent doesn't diminish even after you've completed a few successful years in the market. Hiring effectively remains crucial in scaling up and meeting investor goals. For instance, as you grow, you might notice a few skill gaps that you may not have foreseen. How quickly you fill these gaps will determine how adaptable you are as a brand, and how effectively you can embrace the opportunities that come your way. With that, let's delve into some tips on how to hire candidates as a startup.
Top 10 tips to hire the best talent for your startup
1. Chalk out your recruitment plan
Before you begin your startup hiring process, it's important to make sure all your department heads and internal stakeholders are well aligned on talent requirements. Identify what skill gaps you have as an organization and what competencies you will need going forward. This will help you create the most effective job specifications and hire the right set of skills. It will also let you offer candidates a clear growth journey at your startup. Many good candidates hesitate to work with young firms because of uncertainty and the lack of clarity surrounding their job roles — so getting this right will help you stand out.
One way to widen the pool at this stage is to ensure that your job specifications are unbiased and inclusive. Run your job description through an analysis tool to check against gender-coded language and other biases. This lets you create a fairer and more inclusive hiring process, thus making the experience more pleasant for everyone involved.
2. Hire flexibly and on-demand
Don't restrict your search to just full-time employees — open your startup hiring efforts to include external talent too. This lets you hire more flexibly, thus driving immense cost efficiencies. Freelancers and contractors can help you tide through busy periods — without having to make a full-time hire and offering all the perks and benefits that that involves.
The process of hiring full-time employees too often comes with hefty costs of its own. Think cost of redundancies, cost of EORs, recruiter fees, and onboarding charges — all of which you can sidestep with freelance or contract workers. What's more, external talent also takes away the urgency of having to hire in haste — it allows you to take your time and make a better decision with your full-time hires while still ensuring that your deliveries remain uninterrupted.
Freelance marketplaces like People Per Hour are fantastic places to find talent, quickly and efficiently. A lot of highly skilled professionals operate on a freelance or contractual basis on such platforms, and this can be a great way to bring extremely experienced people on board at a fraction of the cost.
3. Don't limit your search by geography
Following the previous startup hiring tip, it is also a good idea to extend your search to a global talent pool. If you operate within a space where remote work is possible, there is no reason why you should have to compete for talent in a saturated local market.
Hiring globally enables you to select the best candidates based on skill rather than location, thus giving you that extra edge. Here again, it makes sense to keep your search open to contractors. Hiring employees in a different country may involve legal intricacies, and it can get complicated without having an EOR (Employer of Record). In contrast, engaging international freelancers and contractors is a lot more seamless. A platform like TalentDesk.io provides access to a huge talent pool of rated freelancers (through our integration with PeoplePerHour) while providing the expertise to help you figure out what you need before hiring contractors in specific locations, eliminating legal and compliance headaches. It also provides the means to pay and manage your external talent, wherever they may be.
4. Focus on your employer branding strategy
This is what convinces candidates to choose to work for your startup over better-known brands. A few simple steps can go a long way in establishing your company as a great employer. For instance, ensure that your career page is updated with the latest openings and that your website is a good reflection of your brand values. Most professionals today don't decide where to work based on the pay alone — they are keen to work with brands whose goals align with their own values. This is what can set you apart from a large corporation.
Employee testimonials on your website as well as on third-party platforms can also help in the startup hiring process. Of course, these need to be supported with the right actions and policies if you are to maintain a good reputation as an employer. For instance, if you work frequently with freelancers and contractors, it is important to build a reputation as a reliable paymaster. A seamless contractor payment process and a great payment portal can be good ways to do this.
5. Build and showcase great company culture
Here's where you highlight the more intangible benefits that your company offers. As a startup, you have a lot of potential to create a fun, happy work culture where talent thrives and grows. A good social media strategy can help you tell your brand story and showcase everything that makes up life at your organization — from company events and team bonding sessions to birthdays and awards received. Even factors like a gorgeous office space or an enviable location at the heart of the city can contribute to a unique culture and prove advantageous in your startup hiring process.
Do also leverage social media to establish brand authenticity. For example, if you mentioned sustainability and diversity as important brand values on your website, this is where you can talk about how you are actually living up to those values. Share photos, videos or host virtual office tours to show how those principles shape the day-to-day functioning of your company.
6. Design a great recruitment pipeline
One of the most important startup hiring tips is to fine-tune your recruitment pipeline. This encompasses everything from how you screen talent to how you interview them and even how many steps there are in the process. Identify the relevant people who should meet with each candidate and make sure that they are equipped with the right information and context. Assignments and take-home tasks are great ways to understand how the shortlisted candidate thinks and solves problems. But make sure that these tasks are relevant, well-designed to bring out the skills you are looking for, and above all, are not too long and tedious. Most companies also prefer having video interviews to understand who the candidate is as a person — after all, someone could be just right on paper, but might not be the best culture fit for your startup.
Don't forget — while you are vetting potential new employees, they are trying to understand if your company is the right place for them too. Any disorganization and inefficiency at this stage can come across as red flags to candidates.
7. Offer flexibility
Flexibility is another benefit that people have come to appreciate, especially over the last year. Many great candidates today would be willing to work in a startup that offers flexibility in terms of where, how and when they work, rather than at a rigid corporate setup that dictates these parameters. So if you are able to offer this flexibility, that can work to your advantage.
Having the right toolkit goes a long way in enabling such flexibilities. A platform like TalentDesk has several features to help you manage a distributed team. For example, its robust communication features allow your team to connect, collaborate and access the same data and resources, no matter where they are based. At the end of the month, the system consolidates all invoices and enables you to make a single payment — which the software then distributes appropriately to all your talent around the world.
8. Create a great employee referral program
When it comes to hiring employees for a startup, personal references are not to be underestimated. Leveraging your own workforce can give your recruitment process just the right personal touch it needs. After all, your existing employees are the best spokespeople for your brand — they know exactly how things work within the company and can vouch for your culture and work environment. Best of all, they can help you sidestep the hefty recruitment fees!
A well-designed referral program makes your employees aware of your current requirements and makes it easy for them to spread the word. Many HR tools provide templates for referral emails that you can send to your workforce with just a click. Of course, it's important to have an attractive reward system in place too. Although most companies offer cash prizes, you can also get creative with your rewards if budgets are tight. Extra days off and added perks can be powerful motivators to encourage employees to search within their social circles to fill the open positions.
9. Don't just rely on traditional methods
Conventional hiring strategies like relying on recruiters and job boards can cost you a lot of time, effort and money — none of which you might be able to spare as a startup. Fortunately, there are many new-age hiring methods you can opt for today.
Post your requirements on social media channels, reach out to digital placement cells in colleges and universities, or tap into freelance marketplaces. Here at TalentDesk, our platform has a 'Discover Talent' option where we partner with our parent company People Per Hour to help you source the best talent and invite them to join your team - instantly.
10. Pay attention to the onboarding process too
All too often, companies think that the recruitment process is complete the minute the offer letter is sent out. However, there's another critical step to the process — onboarding. This is doubly important in the current remote team scenario. Without a good onboarding strategy, you might find it difficult to retain the fantastic talent you have just engaged, and may find yourself back at square one all too soon.
Here again, TalentDesk's capabilities can prove instrumental in ensuring a smooth onboarding process. The platform allows you to create a customized onboarding flow with the information you'd like to capture, including tax forms, contracts and documents, which are all gathered and stored safely for easy access. A centralized platform also ensures that your new talent has access to all the information they need to do their job. With all the team members and stakeholders added to the same channels, communication becomes a breeze!
It's time to re-imagine recruitment!
People's expectations from their workplaces have changed drastically over the last few years, so age-old recruitment practices are no longer efficient ways to go about hiring them anymore. The great news is that the way the talent market is changing is extremely well suited for startups and young companies. It offers flexibility and dynamism — and it happens to be cost-efficient too.
With the right processes in place, and the best tools at your disposal, hiring the best candidates as a startup becomes easy. That's exactly why so many businesses are turning to platforms like TalentDesk — its robust suite of features makes it easier to engage external workers, manage distributed teams and enable remote employees to do their best work.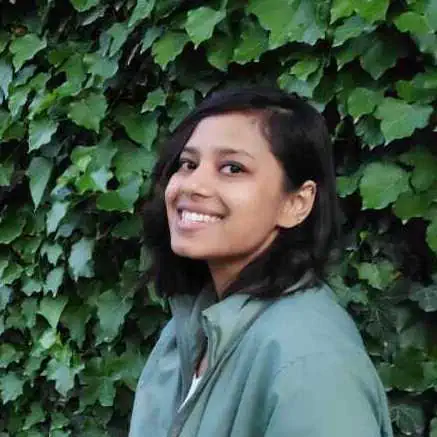 Sanhita Mukherjee
Sanhita is a writer who creates blogs and marketing content for TalentDesk. When she's not writing, she is usually curled up with a good book and a cup of coffee, or daydreaming about her next vacation.