Client case study:
CASAFARI
The best-kept secret in property data for professionals across Europe. CASAFARI helps their clients access millions of properties, precise market analysis and leads.
Stats
Freelancers:

170

Country:

Portugal, Spain, France, Italy and Germany

Region:

Global

Client since:

2021

Most used feature:

Payment automation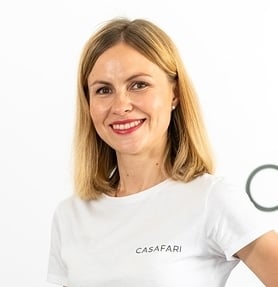 My position is Data Quality & Operations Analyst, so I work with data, checking the quality and I also lead a team of fifteen people.
"TalentDesk has saved us a lot of time and has helped us to grow. It's very convenient to use and if we still had to do things manually, it would really slow us down."
80%

less admin time

55%

YoY growth
Questions & Answers
In your own words, can you describe the nature of your business?

CASAFARI is a real estate technology platform. We aggregate and centralize data from different sources, mainly real estate websites or classified sources, and provide this data to our clients after cleaning and organizing it.

There are other products that we offer such as real estate market analytics, CRM services, lead generation, and others. In a few words, we provide real estate technology services to professionals.

What is your role in the company? Tell us a little about your key responsibilities.

My position is Data Quality & Operations Analyst, so I work with data, checking the quality and I also lead a team of fifteen people that also work within data quality. Before this position, I was working with freelancers who we also managed with TalentDesk; I would check the quality of their work and if any issues were raised, I would be the contact for our freelancers.

How many freelancers do you use and what sort of work do they do for your company?

We have 170 actively working freelancers. They work on matching listings of properties. They have a tool within our platform that they work with where they need to detect duplications of images.

What specific problems were you looking to solve when you decided to look for a management system for your contractors?

The main problem we had was paying our freelancers. Our freelancers are based in different countries. Some are in the Philippines, Pakistan, Thailand, Ukraine and Serbia for example. It was a bit complicated to pay our freelancers because previously we used Upwork to hire them and to pay them, but not all of our freelancers could be paid with this platform due to the banks that the freelancers used. We had to do a lot of manual payments and it was a lot of work to check their balances, pay them, and we had issues with their bank accounts. For our financial and HR teams it was a bit of a headache. We were looking for a solution that would automate the payments as much as possible and TalentDesk seemed to be the ideal platform for this.

What would you say was the biggest pain-point or challenge you were facing?

Simplifying the onboarding process. In order to hire freelancers, they needed to approve an onboarding form with some information about the position. This helps us ensure that the freelancers understand what the position consists of and the conditions of our work. We integrated with TalentDesk because it makes it easy for them to read and approve forms. Internally, we don't have anything like this.

What is the biggest benefit that you have seen since using TalentDesk.io?

Definitely time saving, especially for our finance team when dealing with payments. We have better visibility too regarding how much we spend on freelancers because we also get the reports and we can easily calculate how much is being paid.

CASAFARI has grown so much. How important has TalentDesk been in your expansion journey? Tell us a little bit about how things changed as you rapidly scaled and which problems you were suddenly faced with across your freelancer management in particular.

TalentDesk definitely contributed to our growth. As we grew, we used more freelancers, so we had more payment issues. This would bring more tasks to our finance and HR teams regarding payments and keeping track of how much we were spending.

TalentDesk has saved us a lot of time and has helped us to grow. It's very convenient to use and if we still had to do things manually, it would really slow us down

.

In this fast paced environment you always need to think about how to optimize work and TalentDesk has really helped us in this regard. Work is being done much more efficiently.

How would you approximately quantify the benefits from our platform?

There's a lot less time being spent on payment processing, that's our biggest benefit. My perception would be 80% saved on payment time. I used to work closely with the payments team and saw how they struggled. Since TalentDesk, they have been very happy because it was much more convenient. Again, we don't need to spend time on tasks and on payments. They can be done automatically because of TalentDesk.

How do your freelancers feel about using TalentDesk?

Regarding the freelancers themselves, I think it's important that they have TalentDesk because if they were just using our tool they wouldn't have much visibility. With TalentDesk they have their dashboard, they can see how much they've earned, how much we pay them and it makes us seem more safe and professional to work with. If there's any problem with payments they can also talk to TalentDesk which is very helpful. Very important point - previously when we paid them we would get a lot of emails asking "where are my payments? I didn't receive it" and things like that. Now they can contact TalentDesk directly which is very helpful because all this communication used to take up a lot of time.

And what about you personally?

Previously, I didn't have time for my own work because I had to respond to so many questions, so TalentDesk helps a lot with communications regarding payment issues.

How would you describe TalentDesk in 3 words?

TalentDesk is very user-friendly, convenient and responsive.

Whenever we have any issues or our freelancers have issues we always get a response. It's important to keep freelancers informed regarding payment status and we are able to provide that and help them.