We take the headache out of
contractor compliance
Our comprehensive system handles every aspect of your freelancer or contractor engagement, from fuss-free hiring to automating global payments. Our (optional) international Agent of Record (AOR) service provides extra protection, giving you that much-needed peace of mind.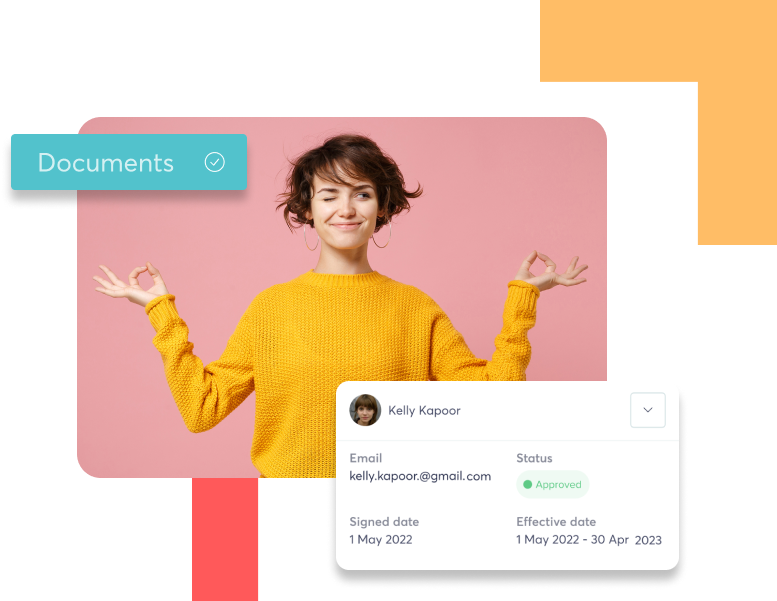 We put our name on the line as your global Agent of Record
Eliminate legal and contract admin while discovering an extra layer of protection. By being your international Agent of Record, we let you focus on whatever you need to do to grow your business, hassle-free. We handle the paperwork and put our name on the line (literally!) to help you mitigate compliance risks. Get extra peace of mind by letting us take care of the necessary AML and KYC checks on your contractors and freelancers.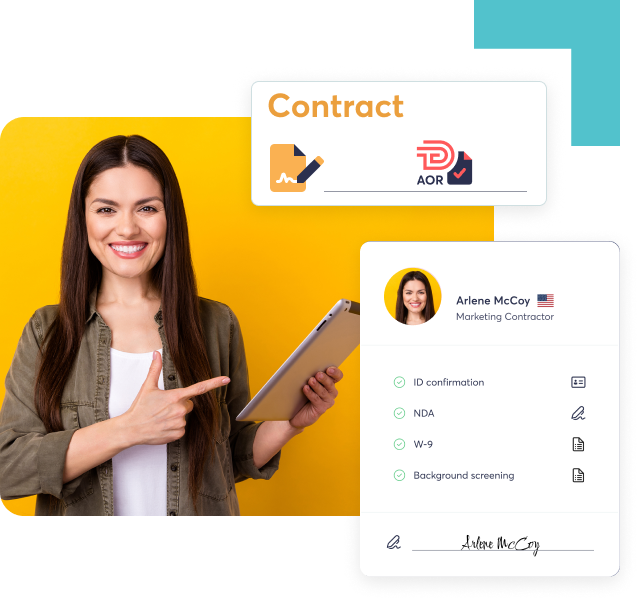 One contract, unlimited contractors
Imagine a world without red tape! With TalentDesk, you can eliminate that time consuming legal and contract admin, and scale your freelancer teams up or down with a click of a button. There's just one contract, that you don't even need to sign if you opt for our Agent of Record (AOR) service. Leave your compliance headaches to us as you hire the best freelance talent, wherever you find it.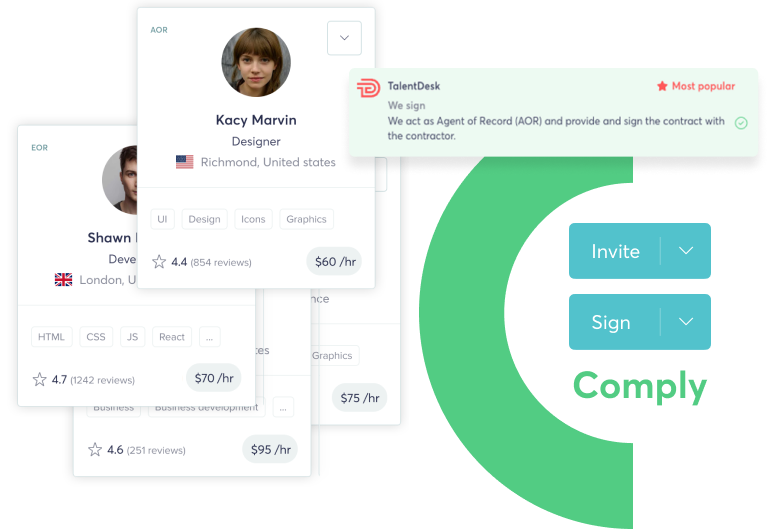 Hand your freelancer verification checks over to us
Get extra peace of mind by letting TalentDesk handle all the relevant checks before you engage your chosen freelancers, including anti-money laundering checks (AML) and KYC verification. We complete thorough identification checks on your freelancers and contractors while staying up-to-date on regulatory requirements. Sit back, relax and confidently engage with your workforce, compliantly.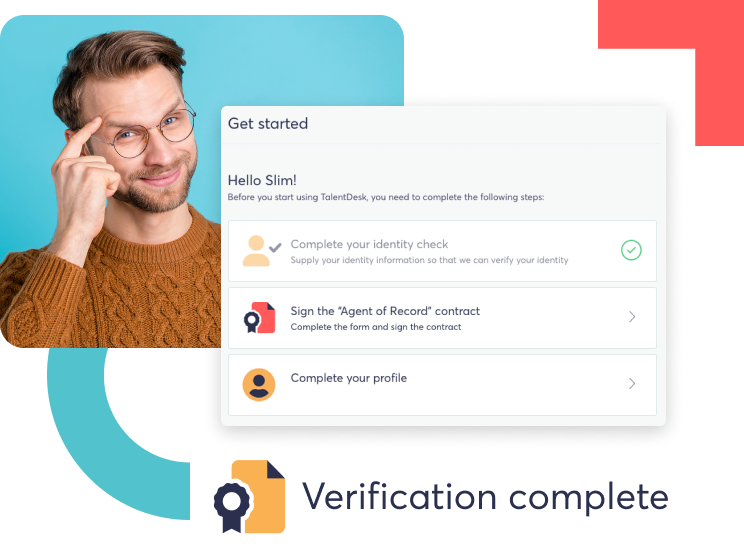 Create and store legal documents safely
Create or upload important documents on TalentDesk in no time. Start collecting signed or confirmed legal documents (NDAs, Proof of Address) and important tax forms (W-9, W-8BEN etc.) that are required to keep you compliant, from the onboarding stage. Here's a contractor onboarding checklist to get you started. Relax as your important records become easy to locate and safe from data loss or unauthorized access.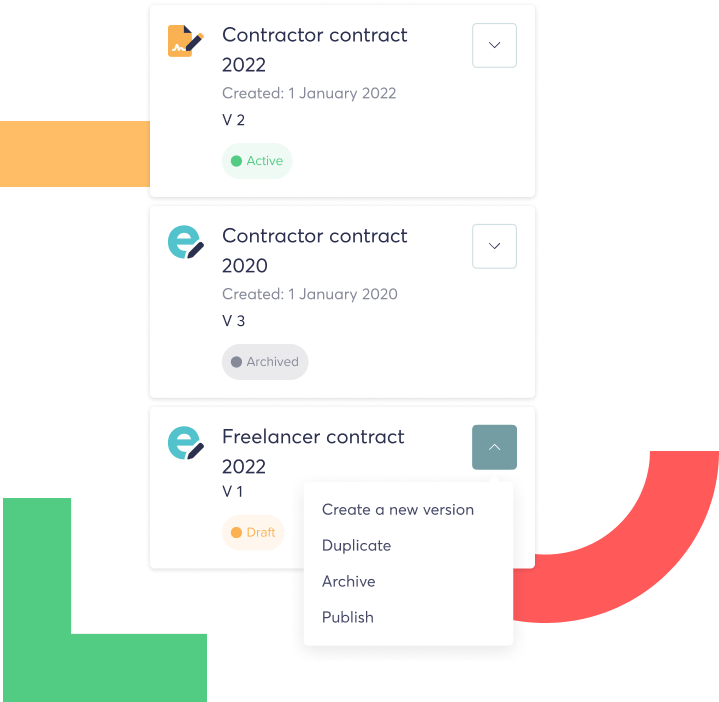 You no longer need to play detective - we'll alert you about any red flags
Say goodbye to the wild goose chase of searching for all of your important information. Our rich freelancer profiles show you everything you need to know about your freelancers, at a glance. We'll flag anything that might accidentally pass you by, including incomplete tasks and pending information, all while storing essential legal documents in one place. Collect vital information at any time and make managing your documents super simple.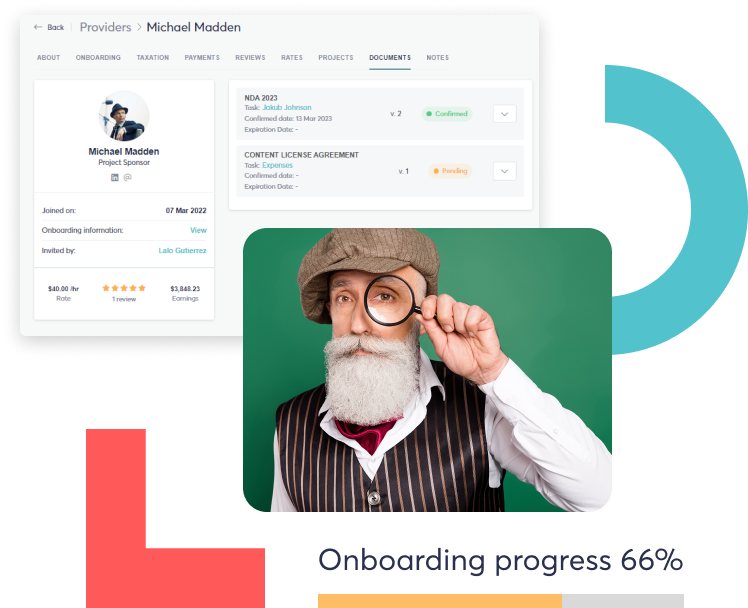 See how our solutions help you lower costs and save time
Remote doesn't have to be risky. Compliance needn't be complex.
Discover how TalentDesk can save you time and money.
From the blog...
Compliance
PEO vs. EOR
Though similar, PEOs and EORs have key differences. Learn the distinctions and find out which is right for your business.
Freelancing and The Future of Work
Xenios Thrasyvoulou discusses shaking up the employment game, refreshing the tax rulebook, and removing the final hurdles to a super-flexible workforce.
What is a 1099 employee?
Failure to classify your workers correctly can impact finances, employee morale and your business' reputation. Learn all you need about 1099 employees here
Frequently asked questions
What is TalentDesk?
We are a global freelancer and contractor management platform that enables streamlined hiring, onboarding and paying of your workforce. Farewell, messy databases and invoices! We can also help you find the cream of the crop of freelance talent.
How does TalentDesk work?
Set up your organization in minutes and start inviting your freelancers as well as internal managers. Our intuitive platform will guide you through the next steps.
How does TalentDesk help with freelancer compliance?
Our experience has allowed us to create a comprehensive system that can handle every aspect of your freelancer or contractor engagement. From ensuring there are no gaps in hiring process and documentation, to giving you a secure communication platform where information is stored in the cloud, to automating global payments and providing you with an Agent of Record (AOR) service, we can take care of all the legal admin.
What is an Agent of Record (AOR)?
An Agent of Record (AOR) creates and signs the contracts with your contractors, so you don't have to deal with tedious legal admin. We'll act as an intermediary between you and your contractors and help you remain compliant from the get-go. Let our AOR service take care of all necessary AML and KYC verifications for extra peace of mind.
Who can approve worksheets?
Any manager who is involved in a project can approve a worksheet.
Can I add documents for my freelancers to sign?
Yes - you can upload documents at onboarding that need to be e-signed by your freelancers and contractors, that you can access at any time. You can also use our 'Documents' feature for uploading contracts that need to be confirmed or e-signed at a task level.