Checklist for Onboarding Contractors
16 Mar 2023
6 mins read
Posted in
This blog was last updated: 10th of May 2023
Welcome packages, tech kits, buddy systems, leadership sessions – when it comes to onboarding employees, companies have really gone above and beyond to create an enhanced experience for new hires. But when it comes to welcoming contractors on the team, they are still at a loss.
Having a good contractor onboarding process is, perhaps, even more important today. Here's why. In an uncertain economy, organizations are likely to work with more freelancers and contractors than ever before – in fact, one study showed that 78% of companies already plan to rely on external workers rather than add more permanent staff in 2023.
And whereas new hires can take their time learning the ropes and enjoy greater guidance from their managers, contractors are expected to hit the ground running without too much facetime with the team. Since they are often paid by the hour (which is usually higher than the hourly equivalent for employees), the less time they spend figuring out the work and the organizational processes, the more cost-effective it is for the employer.
Don't have a process in place yet? Now's the perfect time to create it – and here's a handy contractor onboarding checklist to get you started.
➡️ You can also read our blog discussing how to seamlessly transition from recruitment to onboarding.
8 steps to onboarding contractors
Involve departments across the firm
Most managers engage and manage contractors in silos. There may not be much visibility at an organizational level, on how many external workers the different teams are working with, what kind of professionals you may already have on board, and how they are being managed across departments. In fact, latest stats from SAP suggest that 39% of executives lack visibility as to who is doing what within their contractor network.
Promoting inter-departmental communication is a great way to streamline this process, and you may end up saving time and effort on the hiring process. Moreover, involving the legal, HR, payroll, IT and other departments will enable you to create a comprehensive onboarding process that works for the entire organization.
Classify your contractors
The trouble with onboarding contractors casually is that it may not always be compliant. It is all too easy to think you are engaging a contractor, when in legal terms, you may actually be hiring a remote employee! Since there are different laws and tax implications governing both engagements, such misclassifications can invite scrutiny from the authorities, hefty fines and more.
It is crucial to understand the key differences between independent contractors (also known as 1099 workers) and employees (or W2 workers) – and classify them right. This will shape the way you engage with them going forward. For example, you cannot legally dictate your contractors' work hours or demand that they operate from a particular location. Likewise, they cannot ask for paid time off or other benefits that only employees are entitled to.
Knowing these differences will help you maintain the boundaries, and ensure that your engagement is compliant and above board. You might want to involve your HR team or use the services of an Agency of Record (AOR) to do this right. Our misclassification quiz offers a great starting point too.
Sign the legal and compliance documents
Next, it's time to move on to the paperwork. Engaging contractors through a verbal agreement or a quick email is very risky – even if you know them personally! Instead, make sure you get everything in writing with the necessary documents required for the engagement. This includes:
A contractor agreement. This should be an airtight legal contract that outlines everything including the terms of engagement, type of work, timelines, payment terms, liability clauses and more.
A scope of work document. You may want to add this as an annexure, outlining the scope of work at a more granular level. This ensures that there's no confusion about exactly what the contractor is expected to deliver.
Other legal documents. This depends on the kind of work that the contractor will be performing. Will they have access to proprietary company data or unreleased client information? If so, you may want to have them sign NDAs and confidentiality clauses.
Compliance documents. These may include their work registration details, tax declarations and more. Don't forget – these differ from country to country. For example, you would need a completed W-9 form for US-based contractors, but if they are based overseas, you'd need them to submit the Form W-8BEN. So consult your legal team or Agent Of Record when you are going about this.
Gather the basic contractor details
Now that the legal documents are signed, it's time to add the contractor to your organizational database. Here, you would want to capture basic details like the contractor's name, contact number, KYC details and bank information. You may also want to gather their resume, portfolio, references, professional certifications and any other documents supporting their professional experience.
Any information you collect beyond this would largely depend on your company policies. For example, some organizations need their contractors to sign ethical declarations, terms of conduct and more. However, do ensure that you don't ask them to sign anything that would cross the boundary between an independent contractor and an employee – think exclusivity clauses and similar declarations.
Update your payroll team
The next step is to put the right payment processes in place. Add your contractor's bank details on to whatever payment portal your company uses. You may need to pay extra attention to this step if your contractors are based in other countries. Ensure that your payment portal is operational in their country, establish the currency they will be paid in, and check if any additional details and bank codes are required to make a transfer.

Many managers make the mistake of starting this process only once the work is done. But this is already too late – coming up against any issues at this stage would mean payment delays, follow-ups and unnecessary stress.
Carry out the tech onboarding
This is where you'll need to ensure that the contractor is given access to whatever systems and software your team uses. If they need information stored in certain restricted documents or databases, start the access protocols required to get them added there. Do also add them to any communication channels you need them to be on – be it Slack, Teams or WhatsApp groups.
Contractors need to be responsible for their own software licenses and training resources, so you, as a client, do not need to provide these. However, it doesn't hurt to check in with them to establish that they have these in place before the project begins.
Initiate the project onboarding
Now your contractors are ready to be brought on board the project. Send them whatever brand guidelines and workflow details you have, and take them through all the project dos and don'ts. Equip them with as much background context as you can.
The more details they have at their disposal, the more efficiently they will be able to function. Given that they may be based in entirely different time zones, it is very important to empower contractors to function independently. As an added bonus, this cuts down on unnecessary iterations later on!
Make the necessary introductions
One final step to go – and this one makes your contractor engagement much more pleasant for everyone involved. This is where you introduce your contractors to everyone they will be collaborating with.
This includes members of your internal team, other contractors on the same project, any clients they need to engage with or any other relevant stakeholders you can think of. Even though they may work alone, a contractor is, after all, an important part of the team and it doesn't do to ignore this human aspect of the engagement.
Best practices to onboard independent contractors
Now that you have your contractor onboarding workflow in place, let us share some best practices that we have identified after decades of experience in this space. Not only will these help you streamline the process, they will set you up for long-term success in your contractor engagements when you onboard independent contractors.
Save all contractor details in one place. With different contractors being engaged across different departments, it's all too easy to have signed contracts, payment details and other personal information scattered across various inboxes and communication channels. However, we recommend storing all contractor data in one secure, centralized location.

This way, you can immediately spot if you have missed out on any crucial documents and easily pull up whatever detail you need for audits later on. It also allows you to maintain compliance and protect your contractor's data security rights.


Maintain a contractor database for your organization. Save all work-related details about each contractor (like their work samples, skill levels, experience details, rate, locations etc.) in one place. Over time, you build up a fantastic database that every manager in your organization can access. It saves you from having to look for new contractors for every project, thus saving you an immense amount of time and effort.


Maintain compliance during and after onboarding. Laws and regulations differ across different geographies – and these laws are always evolving. So even though you may be very used to onboarding contractors in, say the US, the process is very different when engaging someone based in European or Asian countries. Plus, you would also need to make sure any change in the scope of work does not compromise a contractor's classification.

It is not always easy to stay ahead of these changes, so in these cases, it is recommended that you collaborate with an expert to help you – maybe your in-house legal department if you have one, or an Agency of Record (AOR) service that not only manages compliance during onboarding but also later through the engagement.
Onboarding processes made easy with TalentDesk
Even with a handy checklist, the contractor onboarding process gets quickly complicated if you are using multiple systems to manage each step. That is where an all-in-one solution like TalentDesk.io proves indispensable.
TalentDesk enables you to fully automate the hiring and onboarding processes. It lets you create a customizable onboarding form that captures all the salient contractor details your firm needs to have on record. Once you gather all the relevant documents like contracts, tax forms, payment details and more, it lets you store everything securely in one place, on Cloud. And when it comes to managing compliance, that's where our Agent of Record services really shine. It enables you to rest assured about classification protocols, global contracts, record-keeping and managing any risks around these regulations.
➡️ Read the full details for how to onboard independent contractors compliantly with TalentDesk.
What's more, TalentDesk also comes with project management and payment features that help with virtually every aspect of working with freelancers and contractors. If you're interested in finding out more, book a call with us below.

Sanhita Mukherjee
Sanhita's experience in the freelancer industry is evident in her role as one of our dedicated content and copy writer at TalentDesk, where she leverages her knowledge and over 10 years of experience to educate others about freelancer management.
Find out how we can help you onboard your contractors the right way
Related articles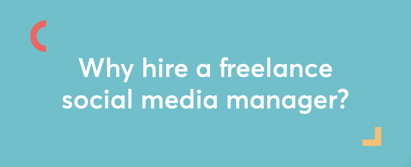 Contents: What does a social media manager do? When do I need a social media manager? Why should you engage a freelance social media manager over an employee? How to hire a freelance social media manager The TalentDesk advantage 'Why would I need a social media manager?' If you have...