Your global payments made easy
Make multi-currency payments to your contractors and freelancers with just one click. Receive one consolidated invoice, and let us take care of the pa(y)perwork.
Our partners

Pay your global workforce, with one click
Get all your contractors paid on time, without the hassle. We make fast payouts in 90+ countries and 30+ currencies on your behalf, saving you a whole lot of admin and money.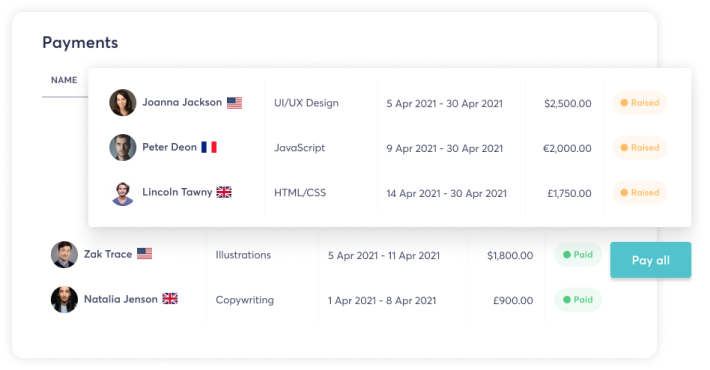 Review worksheets and automate invoices
No more worksheets and timesheets or forgotten invoices. Contractors can raise worksheets or expenses directly, and all you need to do is hit "approve" to generate that monthly invoice.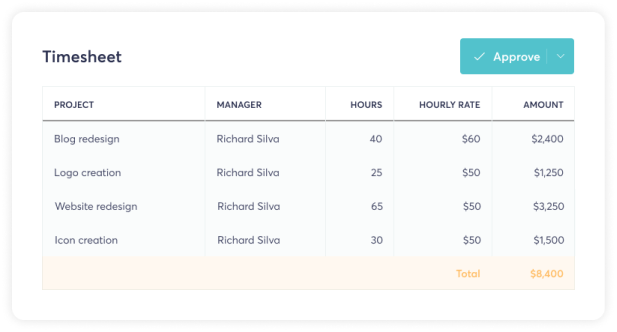 Get one invoice in your inbox, not thousands
Ditch your spreadsheets and your calculators. Receive just one consolidated invoice that includes all your contractor payments.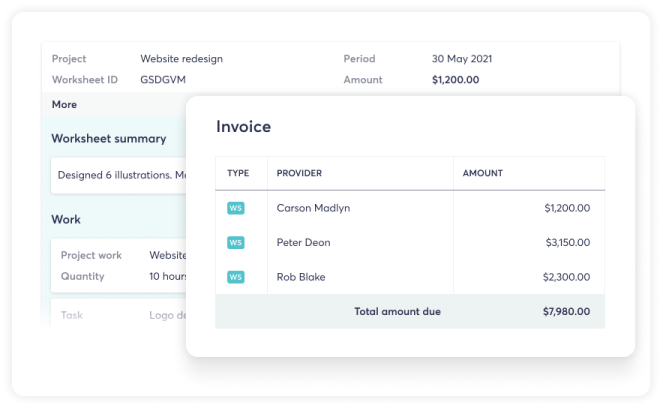 Avoid end-of-month surprises!
Stay in-the-know of your expenditure without all the manual work. Our budget tracking tool shows you exactly what you've spent and on which projects.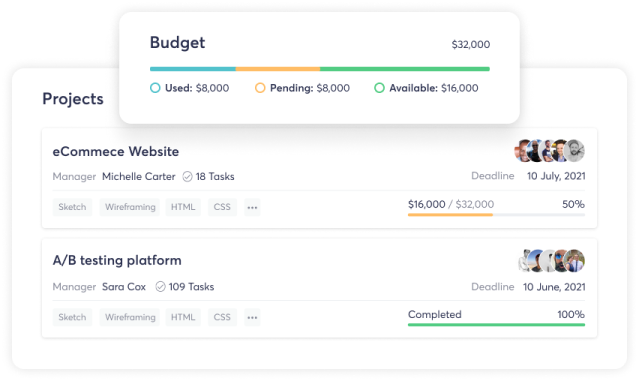 Never miss a payment
Keep an eye on costs and maintain visibility across teams with a real-time dashboard of upcoming payments.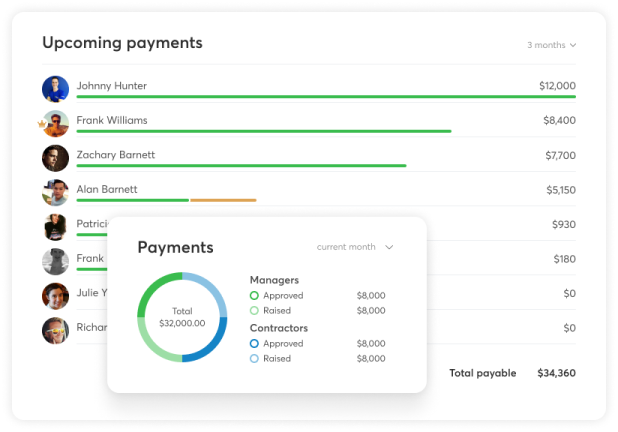 Frequenty asked questions
Who can approve worksheets?
Any manager that is involved in a project can approve a worksheet.
As a Manager I see a Project that I cannot seem to access, why is that?
You probably are the Organization Creator, so you have an overview of all project names and deadlines. However, you will only be able to access the ones you have been invited into.
What do you mean by project collaboration?
Freelancers are not all "gig workers". We know that you often have teams of freelancers working for you on ongoing projects. We allow Managers to subdivide tasks, chat within the context of projects and share material.
I use my own project codes, can TalentDesk.io replicate these?
This question has multiple answers! TalentDesk.io allows you to name your projects, so if you'd like to replicate codes from other software we can either try to replicate the process or work towards integrating with the other software.
Can project deadlines be extended?
Of course! You have full flexibility!
How are budget requests / purchase orders handled by TalentDesk?
TalentDesk.io allows you to allocate budget to each of your Managers on an ad-hoc basis. Each project on TalentDesk.io requires a Purchase Order to be raised and approved before the Project can start. It can be raised by any manager within that project, and approved by any manager that has enough budget available. This means you are very unlikely to encounter bottlenecks when kicking off your project.