PRICING
Why settle for local when you can go

global?
TalentDesk makes it easy for you to hire, onboard and pay the best talent, wherever you may find it. Unlock borderless talent today, whether contractors or employees, with the plan that suits your business best.
Freelancer Management System (FMS)
Free for contractors
$399 Platform Fee per month
Unlimited contractors / freelancers for free
Contract management: you sign and manage your own contracts
End-to-end workflow management: custom onboarding, project & task allocation and execution
Contractor database: Easily onboard and manage your entire network. Create a searchable directory of your available talent.
Worksheet and invoice management: track budgets and expenses in real-time and download reports at a click
Global automated payments: multi-currency, consolidated invoicing at the best rates
Global hiring: connect with and source the best contractors from our global network.
Multiple global entities: Create separate entities under one parent organization for added flexibility and visibility.
*$99 per extra seat, monthly
Agent of Record (AOR)
$29 per contractor per month
AOR (Agent of Record) Contract management: TalentDesk creates and signs the contracts with your contractors (so you don't have to)
Ramp up (or down) your distributed contractor team with no extra paperwork or admin. It's on us!
Reduce and mitigate compliance risk: TalentDesk will take on the contractual obligations of dealing with your contractors
Avoid misclassification risk: our in-house and network of specialist lawyers can help you remain compliant from the get-go by offering best practice tips
AML and KYC compliance checks: get extra peace of mind by letting us take care of the necessary verifications
1099 filings made easy: If needed, we can provide your 1099 data in a downloadable format, and we'll even file them for you directly to the IRS.


Employer of Record (EOR)
From $299 per employee per month*
*Prices vary per country
Hire full-time employees in 130+ countries
We can act as an Employer of Record (EOR) so you can expand your team not just with global contractors but full time payrolled employees
End-to-end global payroll sorted; your employees get paid on time wherever they are
Built-in legal, tax, and privacy compliance for employees
Free Access to TalentMarket
Forget douchey recruiters and lumpy upfront costs. We're putting the free back in freelancer hiring.
We've been in the freelancer recruitment space for over 15 years alongside our sister company PeoplePerHour.
42% of workforce spend is already being allocated to external talent.
We're now offering free access to the top 1000 freelancers from our 4million marketplace, pre-vetted and rated.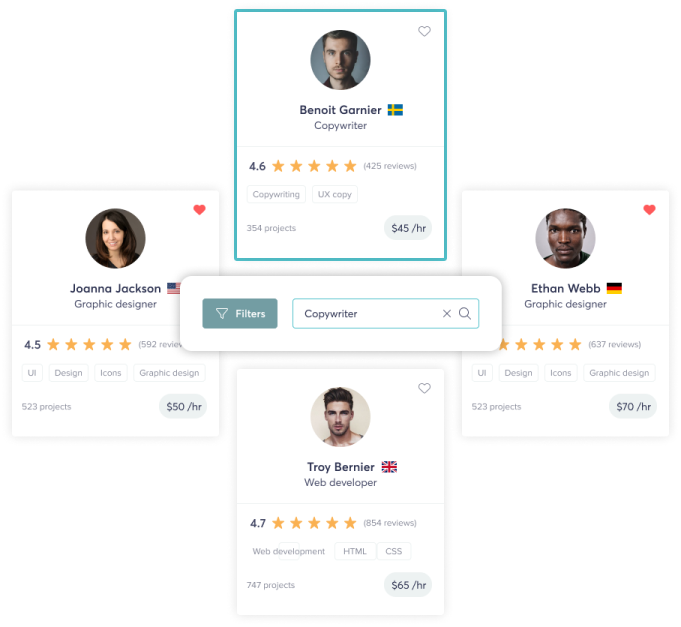 Global contractor payments
Want us to pay your contractors on your behalf, in whichever country or currency they operate in? That's what we do best.
We'll charge a small % transaction fee for processing your payments depending on your volume and currencies, and we'll send you just one consolidated invoice to pay. Easy peasy!
What's even cooler? We'll push out all the financial data to your accounting system so that your books are in order with no extra manual work!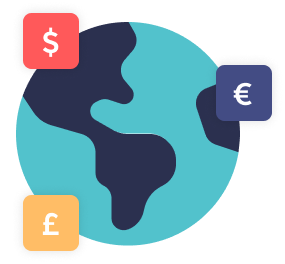 TalentHealth
Attract and retain the best talent with Health Insurance by TalentDesk
For employees + contractors
Offer your talent the best insurance options wherever they are in the world. Health comes first.
Everyone is different: three customizable options for your borderless team (50% off through TalentDesk only)
Flexibility is our middle name: Add or remove team members (internal or external) as you scale up and down.
One place for everything: one consolidated plan for your entire team through TalentDesk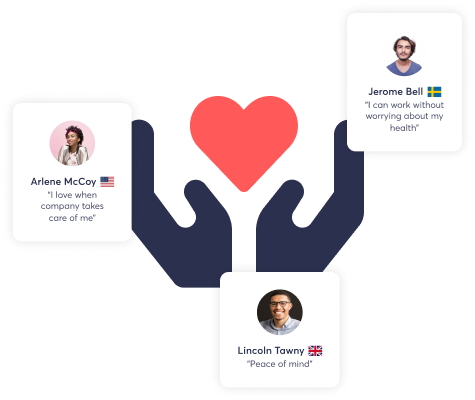 TalentPlanet
Are you carbon-neutral or not-for-profit?
We'd love to support you in making the world a better place.

TalentGrowth
Are you a high-growth start-up with big dreams?
We love business and we love growing alongside our clients.
Our vision is a world where hiring talent is borderless. Our mission is to be the best software platform to do that on. We'd be happy to offer you a 50% discount for your first 6 months at TalentDesk to help you achieve your dreams.
Work without borders today!
Talk to our friendly team to find out how TalentDesk can help you:
Hire employees or contractors anywhere
Save time and money from global payments
Reduce compliance headaches with AOR
Integrate invoices and expenses with your accounting software