12 Dec 2019
5 mins read
Posted in
When you're just starting a new business, your biggest challenge is to get your company off the ground and running. Once you are past that phase however, you may notice that your priorities are changing — and fast. By now, you have established your firm as a strong new player in the industry, completed a few successful projects, and have multiple glowing testimonials on your website. Now, your focus is firmly on growth.
You may be looking at expanding your roster of clients, branching out into different verticals, or even venturing into newer markets and geographies. Your workforce may be burgeoning into several teams, each rich with talented leaders, knowledgeable employees and an ever-growing pool of highly skilled contingent workers. The volume of business data you are dealing with may also have grown exponentially over the last couple of years.
In this phase, having the right toolkit will not only help you manage growth, but also steer it in the right direction. Here are a few systems and tools you may want to consider, as you scale up.
1. Project Management System
A Project Management System is a software that gives you a 360 degree view of all your projects. It is designed to help the managers in your firm organise tasks, track progress and collaborate with team members. However, when you are in the phase where you scale and grow your business, you will also require tools to manage a constantly evolving pool of contingent workers, automate payments or take care of the logistical aspects of onboarding new freelancers. A Project Management System does not usually include features to tackle these tasks.
What it does:
It lets managers break down a job into several small tasks, set deadlines for each task, rank them according to priority and assign responsibilities to team members.

Communication and file sharing features let team members across various offices and geographies work together.

Tools like Asana, Zoho and Wrike let teams track the amount of time taken for tasks. This lets managers keep an eye on workloads, and obtain a fair idea of whether they are allocating adequate resources.

Some tools like Asana also include budget tracking features that let managers allocate budgets and track expenditures as they go along.
2. Timesheeting system
This is a system that tracks timesheets and generates data that you can then use to analyse resource allocation and manage workloads. A good timesheeting system also helps companies bill clients and calculate expenses more accurately. However, since these tools do not usually have project management, collaboration or extensive accounting capabilities, they are best used in conjunction with other systems and software.
What it does:
It maintains daily, weekly and monthly timesheets, which managers can analyse to figure out if they are misallocating resources for specific tasks.

It generates reports that offer insights about workloads, productivity and team progress.

Tools like Harvest generate accurate invoices for clients, based on the exact number of man-hours expended by teams.

Tools like Beebole and Avaza also offer insights about project expenditure, and help monitor budgets.
3. Accounting Software
A great accounting software gives you a complete overview of your company's financials. Not only does it help you monitor the fiscal health of your firm, it makes it easier for you to manage taxes and ensure compliance with local laws. Though some tools can also help you automate budget tracking and other financial aspects of your business, an accounting software alone does not make for an end-to-end business solution.
What it does:
It keeps track of the income, project spends and final profits, thereby easing accounting workflows. Some tools like FreshBooks also have the capability to recognise and automatically record recurring payments, which makes bookkeeping easier.
It lets you customise, create, and send invoices. Some systems like Xero and Sage50cloud connect to your bank account to keep track of active invoices, receivable amounts and incoming payments.
It puts all your financials in one place, maintains an audit trail, and stores KYC and compliance documents, making it easy for you to file your taxes in a simple and timely way.
Tools like Xero also let you fine-tune your payroll settings to incorporate details like pension schemes, time-off and other benefits.
4. Customer Relationship Management System
As you scale up, you start realising the need to maintain a comprehensive record of all your data pertaining to customer relationships. Not only does this include customer interaction and sales history, but also details of existing contracts, potential leads, marketing information and a database of your employees' skills. That's where CRM systems like Pipedrive, Salesforce and Freshsales come in.
What it does:
It records client interactions and centralises all your communication, helping your company build a well thought out, consistent brand.
It automates and streamlines your sales and marketing workflows, helping you convert more leads. It helps you connect with potential clients, keep them engaged and guide them down your sales funnel.
Some CRM tools like Pipedrive offer sales management capabilities, giving you a 360 degree view of all your deals and campaigns. This lets you manage tasks, track your campaign progress and bring all relevant teams and employees on the same page.
5. Spreadsheets
This is a good springboard when you have a relatively lower volume of customer, accounting and freelancer data. Google Sheets, for instance, is a good option for maintaining a comprehensive database of information. Tools like Airtable offer a more visual representation of your data, making it easy to sort and manage individual items. However, since most of the data is entered manually, spreadsheets become cumbersome as your volume of data increases. For instance, a company working with more than 10 freelancers may find it challenging to keep updating and managing their database using a spreadsheet.
What it does:
It lets companies keep a record of customers, invoices, details about their freelancers and any other relevant information. This database can be accessed, edited and updated by managers and team leaders across the firm.
It enables one to categorise and search workers based on their skills, locations or other details.

6. Freelancer Management System
This is a system that enables you to manage people, projects and payments, all with a single tool. It puts all your systems in one place, and lets you manage flexible teams through a single dashboard.
What it does:
It maintains a database of all your freelancers and contingent workers. It categorises your entire talent pool based on skill, experience, rates and location. This makes it easy for your managers to filter their searches and zero in on the right people for a particular job.
It gives you a 360 degree view of your projects. It offers an overview of all active tasks, shows you all upcoming deadlines, and tells you who is handling which part of the project. It also gives you a budget burndown, so you know exactly how to allocate your resources.
It enables your teams to record how much time they spent on each task, making it easy for you to plan projects, invoice clients and manage expenditures.
It helps you streamline the payment process by compiling all approved worksheets, and generating a single invoice for you to pay each month. It maintains a clear audit trail, making it easy for you to file taxes and ensure compliance.
It functions as a communication and collaboration tool, so your freelancers, contingent workers and payroll employees can all work together, no matter where they are.
It puts all KYC documents, contracts and NDAs in one place, which not only simplifies the process of onboarding new talent, but also proves indispensable in ensuring compliance.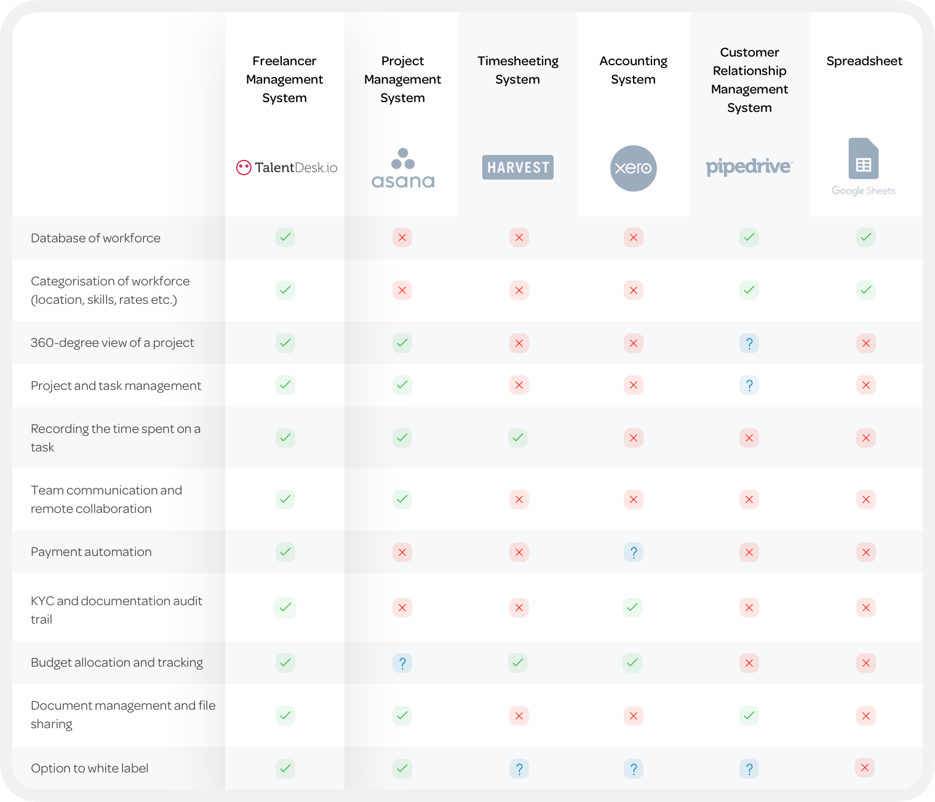 Key:
✓ - Most platforms in this category have features to support this
X - Most platforms in this category do not have features to support this
? - Some platforms in this category have features to support this, it depends on the vendor
One of your biggest challenges in the growth phase is to weigh the features a system provides against its cost, and figure out if it will be useful for a company with your specific requirements. A platform like TalentDesk.io can help make that decision a lot simpler. It takes care of a variety of business needs and eliminates the need to have several expensive systems running simultaneously, functioning as your one go-to system that checks all the boxes.

Richa Dayal
Richa heads the Marketing team at TalentDesk.io. When she isn't working on a marketing campaign, she's either out exploring London's food markets or planning her next vacation.
Speak to us to find out how we can help you pay your contractors more efficiently
Related articles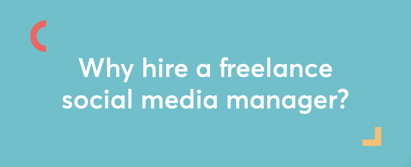 Contents: What does a social media manager do? When do I need a social media manager? Why should you engage a freelance social media manager over an employee? How to hire a freelance social media manager The TalentDesk advantage 'Why would I need a social media manager?' If you have...