1 Jun 2022
8 mins read
Posted in
Where's all the good talent?
Many employers in 2022 are left wondering just this. Indeed, the talent shortage that the world is going through right now is the most severe it has been in 15 years, with 69% of global organizations having trouble finding suitable talent. So what is going on?
The rapid evolution of technology is one major reason for this. It means that there simply aren't a lot of workers who are qualified for the new roles that are coming up. But another significant factor is the evolving nature of work. Priorities are changing, especially after the pandemic. People want time and flexibility to focus on their health, mental wellbeing and the needs of their families. Many experienced professionals are doing this by opting out of the traditional workforce – and embracing freelance and contract careers instead.
So organizations are quickly realizing that the traditional ways of sourcing talent is no longer enough. They are now turning to freelancers and independent contractors – and not just as a temporary, stop-gap solution. They are looking at them as a longer term, more integral part of the company workforce.
If you are looking to stay ahead of this curve, but haven't worked with contractors on a large-scale basis before, read on. This blog outlines everything you will need to know.
How to hire an independent contractor
Identify your skill gaps

This is when you realize that you are looking to drive certain results but do not have the capabilities to achieve them in-house. A lot of organizations are facing such skill gaps, especially in tech-driven roles.

The first step is to understand exactly what needs to be done to drive those results. Setting clear goals will make it easier to find someone with just the right set of skills. Many employers struggle to find suitable talent because they do not understand the nature of work and end up setting unrealistic goals and expectations.

For example, cloud computing is a relatively new domain, so sometimes all an employer knows is that they need a 'cloud expert'. But there are so many different job roles under this vertical – cloud administrator, cloud developer, cloud engineer and cloud architect to name a few. Each of these professionals fulfil a different set of responsibilities, so a job posting that rolls all these functions into one role is likely to go unanswered.

Understand worker classification

Now it's time to decide whether you should look for a contractor or opt for a traditional employee. This requires an understanding of the key differences between these two types of workers, and the degree of control you have on them.

By the very definition of the engagement, you cannot dictate when, where or how an independent contractor works. So if the gap you have is for a time-bound role, or a task where the worker is required to work from your offices (or any other particular location), you would need to make a permanent hire. But for all other roles, where the final result is the only thing that's relevant and the specifics of how the task is achieved does not matter, engaging an independent contractor is a great solution.

Do note that asking a contractor to fulfil an employee's responsibilities (and vice versa) is a major faux pas. It amounts to worker misclassification and has a lot of legal and tax implications – so getting this wrong can lead to hefty fines.

Create a job description
This is where you outline what you would need from the contractor – including the level of experience you are looking for, the qualifications you require them to have, the responsibilities they will need to fulfil, and the final results they will need to drive.
Don't forget to include logistical details too – like the project duration, deadline, budget and so on. The more detailed you are at this stage, the more likely you are to find the most suitable contractors. After all, you wouldn't want to spend hours sifting through applications, only to find out that your shortlisted candidates are not available for the required project timeline.
Create an airtight contract
This refers to the legally binding contract that you will ask the selected worker to sign. So in addition to the details in the job description, this should also include the final rate agreed upon, the terms of payment, liabilities, ownership rights, termination clauses and more.
The terms and conditions of your contract should, of course, be compliant to your state and country laws. And this is where it may get confusing. What happens when you are about to engage a professional who is based in a different country altogether?
This is why it is recommended that you seek the assistance of your organization's legal and HR teams to draw up a contract template. Alternatively, many employers opt for a good AOR (Agent of Record), and rely on their services to ensure contractual compliance.
Ready to start looking for the right contractor for the job? You might be wondering where exactly you find all those experienced professionals you've been hearing about. You can do this the traditional way – by creating a posting on job portals and professional networks, just like you would for a new hire. Another option is to leverage your existing workforce to seek referrals. This is an enticing prospect for your employees, especially if there's a referral bonus involved!
A more modern approach is to look within a freelancer marketplace. There are some fantastic services available today, with millions of professionals in their database. One tip to keep in mind before you sign up for such a service – make sure they have great search parameters that allow you to filter by skill, rate, location, experience and more. This shaves hours off the task of screening and shortlisting candidates!
Once you have your shortlist, you can ask to see their portfolios, work samples, certifications or anything else you need to make the final decision.
Many employers are particular about the onboarding process when it comes to permanent hires, but overlook this step with contractors. That's a huge mistake. It is important to get your independent contractors to sign the necessary NDAs and confidentiality clauses, as well as get them to send you an official record of their personal details. They might need to fill in Form W-9 or, if they are international contractors, Form W-8 BEN. Your Agent of Record (AOR) will help you keep track of all the necessary records and paperwork you need to have.

While you are not required to provide any training to independent contractors, if there are any company-specific guidelines you want them to follow, it's best to review that with them at this stage. Finally, don't forget the more human aspects of onboarding too. Introduce them to the team, let them know whom they should approach for any help, and invite them to the right communication channels and chat groups.
Set up a seamless management process

It is important to provide complete clarity to the freelancer or contractor before they begin working. Brief them on the task, give them access to all the information they need, and communicate the relevant deadlines, work requirements, project guidelines and more.

The actual process will differ based on what individual managers prefer. For example, some managers break tasks down into smaller milestones to ensure that the project is on track. Others are comfortable giving the contractor one final deadline. Both these methods are fine – as long as the contractor understands the expectations, and does not feel micromanaged.

Figure out your payment process
Too many employers think of this after the contractor has completed their work! Any confusion or glitches at this stage can only mean payment delays. Instead, a seamless payment process should be established before the engagement even begins.

Share your invoicing process early on with your contractors. Let them know when they need to raise invoices, how many days it typically takes for the payment to go through, and what method of payment you usually use. You will also need your contractor's bank details as well as any international transfer codes you may require if they are based in other countries. Do keep in mind that not every payment app or portal works in every country, so it's best to have a flexible and expansive system in place.
Maintaining meticulous records of all personal details and payment trails is highly recommended when you are hiring an independent contractor. You may be called upon to provide these details while filing your taxes and conducting audits, so it's best to collect these as you go along.

In the US, if you pay your contractor anything above $600 in the calendar year, you will need their information to fill out a 1099 form for them. Of course, these protocols will differ based on your country. Here again, a good AOR service will be invaluable in helping you keep track of what details and documentation you will need to maintain.
Build relationships

Future-focussed employers swear by one last step – and that is to build lasting relationships with the workers they engage. It is often easier to have a few trusted freelancers and contractors you can turn to again and again, rather than having to look for new talent every time. Given the current talent shortage, this is really important. Good contractors are in high demand, so they are unlikely to want to work with a client they have not had a good experience with before. To avoid this, make sure you build a great rapport with your contractors. Clear briefs, constructive feedback, timely payments and good reviews can all go towards ensuring this. Identify your skill gaps.
Hiring an independent contractor: The pros
Still trying to establish whether or not you should hire independent contractors? Here are a few great advantages that can sway your decision in favor of taking the leap.
You get access to a talent pool that spans the globe

During this massive talent shortage, restricting yourself just to professionals in your location makes your hiring process unnecessarily difficult. When you opt for freelancers and contractors, the world is your oyster. It opens up your talent pool, and gives you access to the most experienced professionals around the globe.

You enjoy incredible flexibility

Unlike with permanent employees, you can engage contractors as and when needs arise. Once you have fulfilled the requirement, you are not expected to continue paying them; nor are they required to continue working with you. This flexibility offers a win-win solution for both parties, and you never have to worry about severance or reskilling costs.

You get a highly diverse team of professionals

We believe in the power of diversity. As our TalentDesk founder, Xenios Thrasyvoulou says, 'As every good leader knows, great minds don't think alike. By bringing in people from different places, with different beliefs and perspectives, companies will benefit.' Working with contractors from around the world automatically gives you the benefit of cultural and professional diversity that most traditional organizations can only dream of.

It lets you access an untapped talent pool

Companies that struggle with talent shortage are likely not exploring untapped talent pools. There are a lot of individuals who may be highly qualified, but may not be a part of the full-time workforce. Think young mothers, people whose circumstances require them to work from home, and even retired professionals like ex-CEOs who may only be looking to take on short-term consultations.
Hiring an independent contractor: The cons
That said, do consider the challenges you may face when working with contractors, especially if you are new to it and do not know what to expect.
You have a lower degree of control

As long as independent contractors deliver the results specified in your agreement, you cannot dictate when, where or how they work. They may have their own means and methods, and they are well within their rights to work with multiple clients alongside your project. So if the very nature of your requirement mandates exerting a certain level of control, it would be best to opt for a permanent employee instead.

You cannot take their availability for granted
Unlike your employees, independent contractors are not required to be on exclusive standby for your organization. They are likely to have other projects lined up after yours. So if your project gets delayed for some reason or you have some urgent new task that requires immediate attention, they may or may not be available to accommodate that on short notice.
You may run into management issues
The idea that contractors do not need to be managed is inaccurate – and this misconception can be the cause of contractor engagements not working out well. Don't forget – they are external workers, so they don't have any background and context about your company. They may not know exactly what is needed unless clearly communicated (even if those guidelines seem obvious to the manager sometimes).
Another reason for these engagements not working out seamlessly is because a lot of businesses still rely on manual processes. Human errors are inevitable, and this often causes crucial tasks to fall through the gaps – invoices get lost, paperwork remains unsubmitted, databases miss out on being updated and so on.
How to hire contractors – The TalentDesk way
Fortunately, you can easily address these pitfalls, thanks to the secure, automated solutions available in the market today. Here at TalentDesk, for instance, it is part of our mission to help make the process of hiring freelancers and contractors smoother than ever before.
You get access to the top global talent, thanks to our integration with our parent company, PeoplePerHour. Once you shortlist and select the professionals you'd like to work with, we help you create a customized onboarding process. To make the process completely seamless, we act as your Agent Of Record (AOR), so you never have to worry about documentation, contracts and compliance, even when working with contractors from around the world.

Subsequently, we offer project management, time tracking, invoicing and communication capabilities, making it incredibly easy for you to manage your contractors. This is particularly helpful in those situations when you have multiple contractors working on different aspects of a single project. And with our easy-to-use payment portals, global payments become a breeze too. In fact, we consolidate all worksheets to generate a single invoice for you. So one click is all it takes to make accurate payments to hundreds of contractors, wherever in the work they may be.
At the end of the day, an end-to-end, automated system like TalentDesk can be all you need to start hiring contractors as valuable members of your workforce.

Sanhita Mukherjee
Sanhita's experience in the freelancer industry is evident in her role as one of our dedicated content and copy writer at TalentDesk, where she leverages her knowledge and over 10 years of experience to educate others about freelancer management.
Speak to us to find out how we can help you simplify your hiring process
Related articles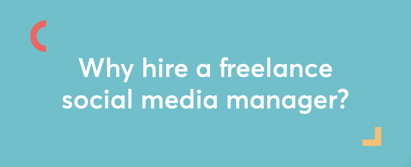 Contents: What does a social media manager do? When do I need a social media manager? Why should you engage a freelance social media manager over an employee? How to hire a freelance social media manager The TalentDesk advantage 'Why would I need a social media manager?' If you have...