1 Apr 2020
4 mins read
Posted in
You've got ambitious plans for your business or division but not enough resources. You also have a clear strategy in place, you know the direction you want to head in but getting there is a frustratingly slow process. That's a problem we often hear from directors and managers.

Have you considered using freelancers or contractors? They can play a massive role in helping to achieve your short- and long-term objectives. Not sold? Here are five ways that outsourced talent can fast-track you towards your vision.
1) Boost business growth
Do you want to increase your client base? Gain more sales from existing customers? Launch a new product? Reinvigorate sales for a current product? There are so many ways that a freelancer can help you grow your business.

There's no need to rely solely on employees. If they're at full capacity or don't have the skill set, reaching out to suitably qualified professionals can help speed things up and bridge any skills gap. After all, it's impossible to be an expert in everything.

Freelancers are perfect for highly-skilled or one-off projects, creative tasks (such as marketing, PR, audio-visual and design), or working on commission. And because you're enlisting the help of an experienced individual, they could also offer you consultation or insights that could improve your original strategy.
2) Save money & reduce costs
Recruiting highly-skilled talent can be costly. It's not just the salary but everything else that goes with it. Holidays, sickness, national insurance, tax, pension benefits…the list goes on. This can often be the biggest cost in a business.

Talented freelancers have a wealth of knowledge that they've probably taken years to acquire. That's knowledge that you can cost-effectively access without having to employ additional headcount or needing to train employees. And let's face it, they'll be much cheaper than a big agency too.

Freelancers are perfect for startups who don't have the funds to employ many staff. And they're also a wise choice for most SMBs and larger enterprises. They'll be able to provide services for everything from tax and legal advice to programming and marketing. The best bit is that you can trial working with them first without making a huge commitment which means there's less risk attached.
3) Increase efficiency
Time. It's the most valuable resource you have. Use it wisely and you're more likely to reach your goals. Stop doing multiple job roles yourself – the same applies to your staff or team too. Also, have systems and processes in place to automate workflows where possible. This allows everyone to focus. And focus breeds efficiency.

Maybe you need help to cover maternity, sickness or holiday absence or need to tap into particular skills at short notice. A freelancer can help you crunch data or carry out market research too, providing insight and saving your business time and effort on projects or business ventures that may not be viable. A supplier let you down? Chances are there'll be a freelancer who's ready to help you out. You can assign single tasks or outsource whole projects. This helps to optimise everyone's time and ensures that the business doesn't become a bottleneck in reaching its short- and long-term goals.

A Freelancer Management System (FMS) is a great way to keep records of all your contingent workers in one place. After all, you don't want this to become a drain on time either. It allows you to efficiently deal with the whole process from onboarding and hiring to project management and payment. That's less time trying to find and manage freelancers and more time getting work done.
4) Skyrocket performance
Together with increasing efficiency, freelancers can also improve performance – either indirectly or directly. We've already mentioned outsourcing tasks and projects to free up staff time which also gives the business space to take a deeper dive into how goals are being achieved in the first place.

This could include devising better approaches to income-generation and strategy implementation or analysing activity to see what's working and what's not working. When people are snowed under by important day-to-day tasks and meetings, their attention is on getting the job done rather than how they can improve. It's important to give your teams the right environment to help the business succeed.

But it doesn't stop there. A freelancer or contractor (aka a consultant) could train your staff on a certain skill or techniques that will enable them to achieve high-quality results, faster. It could be one-on-one training via video call or group training in person such as coaching the sales team on winning more customers or demonstrating to a marketing team how to optimise their ad campaigns or nail Facebook marketing. The value of this is self-evident. Better performance means your team is not only likely to hit your targets – but smash them.
5) Realise geographic expansion plans
So, you've got expansion plans? Whether at home or overseas, you'll be able to tap into the freelancer network in any location. That means potentially less time to get your strategy in motion. If you don't know where to start, TalentDesk.io integrates with PeoplePerHour so you can quickly search by location, skills, language and more to find the ideal person.

Having the support of someone with local knowledge can help you assess the business climate or their language skills can overcome communication barriers. From Edinburgh to Cairo, Birmingham to Sao Paulo, there are a huge number of highly qualified local people out there to help get your project off to the right start as well as maintain that all-important momentum.

Don't forget that alongside an FMS, video conferencing software and other productivity tools such as Slack and Trello, will keep remote projects on track. Most freelancers are familiar with these applications and are used to working with clients that are miles away or overseas.

Having geographic expansion plans today doesn't necessarily mean you have to set up expensive offices and hire lots of employees. At least not in the early days. Freelancers can act as an incredible foundation for any goals you're looking to achieve – no matter how large or small.
Want to learn more about how TalentDesk.io could help your business? Book a Demo.

Floris ten Nijenhuis
Floris is part of the Growth team at TalentDesk.io. When he is not in the office he is either cooking, playing basketball or listening to Latino music.
Speak to us to find out how we can help you pay your contractors more efficiently
Related articles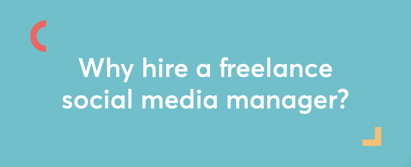 Contents: What does a social media manager do? When do I need a social media manager? Why should you engage a freelance social media manager over an employee? How to hire a freelance social media manager The TalentDesk advantage 'Why would I need a social media manager?' If you have...