How to attract and retain creative talent: Production edition
3 Jul 2023
8 mins read
Posted in
Contents:
---
It's a creators' economy. The last few years have established this as an undisputed fact. Today, we see video and content creators becoming as famous as movie stars. We see indie production houses giving big-budget media companies a run for their money with interesting new releases every year. We see new offerings within diverse media formats – be it movies, television series, video shorts, game content and more.
It's true that the media, content, video and film production industries are thriving right now – but this also means that this is a highly competitive space to be in. Viewers' attention is limited amidst a sea of seemingly unlimited offerings, and only producers who continue to outdo themselves (and others) stay ahead.

In this scenario, production companies need every advantage they can get to not just survive but to thrive. And great creative talent is perhaps the biggest advantage they can enjoy. But how can one find, attract and retain talent and get the best out of them?
Why should production companies consider global freelancers and contractors?
The answer to this lies in practicality – the freelance and contract space is where a majority of creative professionals are.
In the US, 55% of professionals in the entertainment industry are freelancers, with this number increasing to a whopping 75% in the art and design industries. There are multiple reasons for this. Many creative professionals feel that being self-employed is the only way they can retain creative control, while others have skills that are too specialized to stick to one company alone. Of course, it also affords flexibility and independence in terms of work, which is something creative minds value.
But this brings important advantages for production companies too. This is an industry that has always seen value in opting for contract professionals, and this need has only become more pronounced with the demand for new content getting higher.
Here are a few major reasons why freelancers and contractors can ensure success for a production company that uses them right.
The production industry requires a wide breadth of specializations.

Even a single project requires experts from diverse fields – think an entire team of photographers, actors, set professionals, camera and light technicians, video experts, sound engineers, editors, post-production experts and more, all for a single video. With newer animation and VFX advancements coming up every day, the list of specializations is just getting broader. And these are prime examples of tasks that cannot be fulfilled with AI – you still need human expertise and creativity to make something compelling.



It thus becomes easier for production companies to have an in-house team of directors and core creatives to drive projects, and outsource the actual execution to highly skilled freelance and contract professionals who have trained for years to be able to deliver top quality work.
Production projects are becoming more global.
This industry is fairly global so each new project may not necessarily be based in the same location as the company headquarters – they may take place in a different city or country.
We just discussed the overwhelming number of skilled professionals that are required to execute each project. Now think of the sheer expense and logistics that would be involved if you had to fly an entire team to new countries every few months! Production companies and media houses find it so much simpler to just hire local talent for a short duration, on a contractual basis.
Budgets tend to be unpredictable
Production budgets often come in at the last minute, with very little notice – and then the project is expected to run full steam ahead! Under these circumstances, it doesn't make sense for companies to have a team of permanent staff on stand-by when they are not sure when (or if at all) the project will get the green light.

Being able to tap into freelance and contractor talent who can hit the ground running can be a huge advantage here. These professionals are experienced and know just how the industry works, so they do not require much onboarding or coaching to begin.
Production timelines are often pretty tight



Speaking of budgets – production projects can usually not afford to have business gaps or staffing issues because in this industry, a delay of even a few days can mean huge losses.
Sticking to timelines and ensuring the project remains on track are key here. Even a single editor's position remaining unfulfilled or the camera crew being short-handed by even one person can cause the project to go over budget. Hiring talented freelancers who can step in on a more immediate basis to cover for those on vacation, sick leaves, maternity time-off etc., are a massive boon to production managers.
Have the time to be creative for yourself, not just your clients
So far, we've talked about the logistical advantages of working with production industry professionals on a contractual basis. But hybrid teams offer some crucial creative advantages too. Let's see how freelancers and contractors can help in this area.
They bring creative diversity of talent.

The creative industry is very wide and the specific kinds of professionals you require for each project varies greatly. For example, a science fiction or fantasy production will lean heavily on special effects experts, VFX artists and CGI animators, while a period drama may require a greater reliance on the costume, makeup, and set design departments.

Working with freelancers and contractors lets you spend your budget on hiring the very best professionals in the required fields rather than blowing it on the overheads associated with maintaining a permanent staff.

They let you focus on strategic and creative work.

Creativity, after all, is what drives this industry – the more opportunities a team has to experiment and try new things, the higher their chances of success. However, the more you grow, the more you may find yourself getting caught up in the day-to-day management of resources, operations, administration and execution. This may cause you and your team to be spread too thin and ultimately burn out – while also holding back your company's growth.

Outsourcing these necessary tasks to people who specialize in them frees up the time and mindspace you need to flex your creative muscles, plan strategic business growth, explore new ideas and do things that nobody has done before. After all, most people who work in production do so because they are passionate about what they do, and working with freelancers lets you reclaim the parts of your job that are truly important.

They let you celebrate your achievements.

You can't talk production without touching upon award shows! Production jobs can be pretty intense – but there's no better feeling than having your efforts recognized by the industry.
Attending award shows, ceremonies, industry mixers and social gatherings lets you celebrate creative achievements, stay up to date on what's new in the space, and of course, network with the who's who of the industry. Having freelancers and contractors on board ensures you are not too busy to take the time out to celebrate what you've worked so hard to achieve.
Interested? Here's how to attract and hire top talent
Now that we've discussed the advantages of working with hybrid teams in production, how do you actually go about finding these top professionals for your project?

Referrals are a great place to begin, because they come with a personal guarantee of sorts. But there are obviously limitations to this, and you cannot count on referrals alone for large-scale work or projects in new locations.
Freelance and contractor talent platforms are a more reliable and fool-proof option to hire talent. Platforms like 99designs and Twine specialize in helping clients find creative talent, while PeoplePerHour gives you access to an exhaustive directory of professionals – thus enabling you to find workers for creative as well as operational tasks.
Any great platform like PeoplePerHour makes it easy for you to filter available talent by location, rate, experience, availability and more, so shortlisting the best fit becomes easy. Then, it's just a matter of reviewing their work samples or portfolios, having one-on-one discussions and making an informed choice. Incidentally, if you do not want to sift through the entire exhaustive list, you also have the option to filter and pick from a pool of the top 3000 freelancers on the platform – which makes hiring even simpler.

Do be informed – there are certain onboarding and data gathering protocols you need to follow, in order to stay compliant with labor and tax laws. For example, worker classification is a common area for potential missteps. When not done right, your freelancers get classified as your employees – inviting fines and overheads for you in the process. The complexities only increase when you engage workers in new states or countries, because then you need to contend with local laws.
But a project in a new country is precisely when you need the advantage of freelancers and contractors – so you don't want to forgo this. That's where you can opt for an Agent of Record (AOR) service. An AOR is an entity that engages, onboards and pays your freelancers compliantly on your behalf. They take on full responsibility of compliance for all your freelancer and contractor engagements – including classifying workers, gathering the right paperwork, filing the right tax documents, making payments and even assuming liability. This ensures that you do not get held back by a clunky and cumbersome onboarding process – you still get to enjoy the speed of bringing specialists on board and getting that project underway.
The other thing you need to keep in mind at this stage is data storage. You will need to gather worker information, signed contracts, NDAs and confidentiality clauses – and save them all in one secure location. This is especially important in the production industry, given that you might be working with sensitive Intellectual Properties (IPs). Having the right paperwork signed enables you to trust your contract workers to maintain the necessary confidentiality and holds them accountable, even if you are not on location to monitor and micromanage every step.
Approaches to retaining talent one you've found your workforce
In a competitive industry like this, hiring talent is just the first step. Once you find the best professionals, you also want to make sure you retain them, so you can turn to them again as needed.

The most important way to do this is to remember that these professionals are artists who have refined their craft over years, and are often highly sought-after in their fields. Respect their craft and expertise, both through the relationships you form with them, as well as in tangible ways – like offering them fair compensation and making timely payments!
We know that unsatisfactory pay is one of the top reasons why employees leave jobs – and 41.2% of workers left jobs voluntarily in the last year alone. But payment issues are pretty common among freelancers as well. One report shows that 29% of freelancer invoices are paid late, while another reveals that 59% of US-based freelancers have over $50,000 in payments still outstanding! Given the flexibility that freelance work offers, it is easier for these professionals to move away from non-paying clients than it is for employees to quit their jobs.

What's more, creative production professionals have a tight-knit circle, so employers who have a disorganized payment system (resulting in lost invoices, payment delays, incorrect payments and more) find it difficult not just to retain workers but also to attract new talent that are in high demand.
As you get your payment system in place, here's another factor you'll have to consider. If your team works on international projects regularly, your global payment capacity will need to be just as seamless as domestic payments. Currency conversion and international bank fees can quickly add up when you're working with several contractors, even during the course of just a single project. A good payment portal will enable you to make these payments while ensuring that you do not spend a big chunk of your freelancer budget on bank fees alone!
Don't let a lack of the right systems get in the way of creativity
Freelancers and contract workers thus bring massive advantages for production companies, whether you're operating globally or locally. And we have seen how these benefits span across the logistic as well as the creative aspects of the business.
A service like TalentDesk ensures that all these advantages outweigh the challenges of hiring, onboarding and managing your freelance talent. An integration with PeoplePerHour (our parent company) makes it easy for you to find and hire only the best professionals in the industry, across geographies. We then help you streamline the onboarding process so that no crucial steps get missed out here. Agent Of Record (AOR) offerings form a part of our service, which allows you to enjoy the peace of mind that's much needed to break creative ground in your field.
In fact, we have been helping LC Interactive, a global online media house, enjoy many of these benefits over the last couple of years. See what they have to say about the experience:

So are you ready to put the right freelancer management system in place and unlock the advantages that come with it?

Sanhita Mukherjee
Sanhita's experience in the freelancer industry is evident in her role as one of our dedicated content and copy writer at TalentDesk, where she leverages her knowledge and over 10 years of experience to educate others about freelancer management.
Find the time to be creative for yourself with TalentDesk
Related articles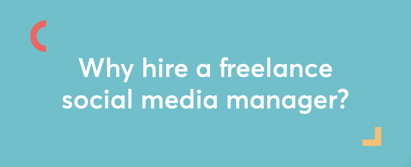 Contents: What does a social media manager do? When do I need a social media manager? Why should you engage a freelance social media manager over an employee? How to hire a freelance social media manager The TalentDesk advantage 'Why would I need a social media manager?' If you have...