Freelancer vs. Design Agency: Why We Chose to Stay Agile
7 Nov 2023
9 mins read
Posted in
Contents:
A few months back, we acknowledged the need to revamp our website. The existing design no longer mirrored our evolved product, and the messaging seemed detached from our current identity.
At TalentDesk.io, our two-member marketing team often leans on agencies. We rely on a digital marketing agency for our paid campaigns across platforms like Google and LinkedIn, and an SEO agency assists with our content and organic traffic. Being the VP of Marketing in a rapidly-growing company with a lean marketing team, I deeply appreciate these agencies for their versatility and support.
However, when it came to refreshing our website, we opted not to engage a Creative Agency. Here's why:
Speed

A thorough audit by a Design Agency, encompassing our messaging and competitor analysis, is undoubtedly valuable. But, it's also time-consuming. We weren't aiming for a brand overhaul but rather a refinement based on insights from the past year. Selecting an agency alone would entail numerous introduction calls, briefings, and price negotiations.

Authentic Messaging

While agencies might dive deep to understand our product and Ideal Customer Profile (ICP) through mood boards and user research, we believed that our message would be best crafted internally. In today's digital age, with tools like ChatGPT available, crafting a clear message is not the herculean task it once was. Sometimes, it's just more efficient to DIY. Our marketing team has been in lockstep with sales, closely monitoring the evolution of our ICP's pain points. In an era swamped with software solutions, we have unique insights into why clients choose us. We felt no one could articulate that better than us.

Direct Communication

Cutting out the agency middlemen and communicating directly with freelancers makes conversations clearer and decision-making quicker. This approach improves project outcomes through immediate feedback and personalized workflows. It's a simple and more efficient way of communicating that benefits both clients and freelancers, making it super easy to engage and collaborate in a way that's fast.

Design Compatibility

Agency portfolios, while impressive, offer a generalized showcase that might not necessarily align with your unique vision. They display a broad spectrum of their best work, but this doesn't guarantee that a designer's style will resonate with your specific needs or preferences. Freelancers, on the other hand, offer a more tailored approach. You have the liberty to sift through various styles and directly choose a designer whose creative approach aligns closely with your vision, ensuring a more personalized and compatible collaboration.
How We Picked a Freelancer
Once we settled on this direction, we began our freelancer hunt on our very own TalentMarket. We decided to put our money where our mouth is and make use of TalentMarket due to its highly curated selection of pre-vetted talent. Instead of sifting through millions of freelancers, TalentMarket allowed us to efficiently navigate through a pool of highly qualified professionals, each accompanied by ratings and reviews, providing insight into their expertise and reliability. This not only saved us precious time but also simplified our decision-making process. Having too much choice can often be overwhelming and counterproductive, but TalentMarket streamlined the selection, allowing us to focus on evaluating the best-suited candidate who could bring our new humorous branding ideas to life.
Design

In our quest for a designer, we were on the lookout for someone who could inject humor into our branding, steering clear of the mundane and overly formal styles that are often found in the SaaS industry. We also aimed to incorporate funny and relatable stock photos of people, moving away from images that feel too corporate and transactional. By looking through feedback from similar projects that gave us confidence in our decision, we found a designer who perfectly embodies these ideals and possesses a knack for creating designs that perfectly align with our unique vision and brand personality.



Reviews

TalentDesk's review feature played a crucial role in our decision to choose a freelancer. This capability provided us with insightful, transparent reviews and we could look through feedback from similar projects allowing us to confidently assess the reliability and quality of potential freelancers. This empowered us to make an informed choice that perfectly aligned with our project's needs and vision. The accessible feedback and ratings made the collaboration process smoother, increasing the chances of a successful partnership. We simply went through various reviews and narrowed down our freelancer options based on the fantastic feedback they had already received.



Costs

Hiring a freelancer turned out to be a smart move for our project's budget. Freelancers offer flexible pricing options that can be customized to fit specific budgetary needs. By choosing a freelancer, we were able to allocate our resources more efficiently, making sure that every penny we spent directly contributed to improving the quality and impact of our project. One of the reasons we selected our freelancer was because their hourly rate fit perfectly within our budget, allowing us to achieve top-notch results without compromising our finances.



Communication (Global Messaging)

Finding someone who could work within our timezone, be responsive and open about their availability, and get along well with us and our ideas was crucial for us. We utilized TalentMarket's Global Messaging feature to connect with the freelancers we had shortlisted, and one specific person's speedy response caught our attention. They were immediately available for a call, which allowed us to discuss plans and deliverables. Our freelancer's excellent communication ensured that we received everything we desired. This approach made the design process smooth and efficient, creating an environment that fosters creativity.



Adaptability

Because freelancers value repeat business and positive word of mouth, they are highly responsive and adaptable. Their independent status allows for quick decision-making and the ability to adapt to changes or feedback in real-time, which is especially advantageous compared to agencies. In our case, we were fortunate to choose a freelancer who was enthusiastic about receiving repeat work and feedback. He was very communicative and flexible with his schedule and ideas. This collaborative approach made our design process seamless and ensured that the final product closely matched our expectations. It also added a dynamic layer of interaction that enhanced the overall experience.


So, why should companies opt for freelancers?
Let Gary Anderson Barber explain what he thought of the process of working with TalentDesk and his experience of being a freelancer.
What got you into the freelance industry?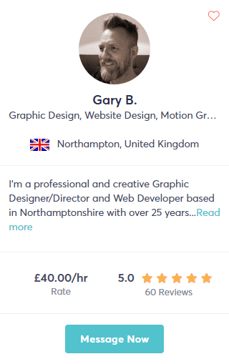 So out of college, back when I was 18/19/20, I went to do some work experience with a local company and they offered me a job. I was there for a couple of years and then moved on to another design agency, where I was there for a couple more years. Then, I basically set up on my own with a friend and we worked together for a few years, basically with a small company until he left. Then I was back on my own.
I started employing people and ended up building up a small design agency. I had four or five people working for me and I did that for 15 or more years until I realized I wasn't really enjoying it. All I was doing was management and servicing clients and finance. I wasn't really doing what I was good at and what I enjoyed. So, basically I just downsized at that point.
Over the space of a few years I got back to just being on my own again. I disposed of the office I was working out of and went back to working from home. Essentially, the journey to being a freelancer was through that. It's much, much better and much more enjoyable.
How many years have you been a freelancer?
I feel like I've been a freelancer all my life, because apart from the first four years of working for somebody, I've essentially worked for myself from when I was probably 23 or 24. Even though I was kind of running a company and employing people, I still kind of felt like I was freelancing it essentially. It was only really when I started to work back on my own again, which is about six or seven years ago now, did I make the decision about becoming independent again from running a business and employing people. I guess it's been seven years or so now of being a freelancer.
How has your experience been using TalentMarket?
I've had a good experience so far. I think the platform's really easy to use. It's been super easy as far as logging my time, logging my hours and the approval of the work that I've been doing through to the super quick payment at the end of the month. So, that's fantastic from a freelancer's point of view because normally I have to chase people for money. Working with the platform makes it completely automated. It's very simple, smooth and hassle free.
How did you approach the rebranding process of TalentDesk's website?
I have a general process with any kind of web design. Initially you've got a discovery phase where you do a bit of research into the company, understanding what the product is, what their client does, their industry, the marketplace, competition etc. Researching is the first stage and from there it's obviously defining what I'm actually trying to achieve.
In this case it was a clear brief from you guys at TalentDesk explaining what it was that was needed as far as refreshing the brand and the website design. The goals were really to improve the design, improve the user flow, and make sure that the core tractions were clear.
So once that was done it was onto the actual design side which is again, looking for inspiration of other websites and seeing what the current trends are. I normally spend a bit of time looking at the existing website and from a user's point of view and trying to define what I like about it, what I don't like about it. From there, you get straight into the design. With a new web design, I would tend to probably do a site map etc. But again, that wasn't required because it was all existing and this project was more about improving the design aspect of what was already there.
We started a bit weirdly with the 'About Us' page. Normally, I'd start on a home page. It did take quite a few iterations before we really kind of got to where we were happy with it. It then led into defining what the rest of the site was going to be, what it was going to look like. The solutions pages then had a similar style and as the design sort of developed it defined a bit of a template style and how the graphics were going to appear. We introduced new stock images alongside the new elements. We also had the existing angles and semi-circle graphics that were on the existing website which I used and I incorporated them into some of the graphics and made them larger. This made the whole website look a bit bigger and bolder, a bit fresher. By the time we actually got on to doing the home page, which was quite some time afterwards, I think the the style had pretty much been set up by then and it was more about just working through the actual design sections of the different modules on each page, getting them looking right, and getting the messaging correct with the graphics.
From there it's kind of a hand over to the developer. There's a bit of work then at the end of the process of the design just to kind of get everything perfected.
And would you say that your visions went to plan?
Yeah, definitely. I think as the pages were designed, it became easier moving forward on to the next one. I think as we went through each page, there were less and less iterations each time that we created a new page. The hardest part was trying to fully understand how the Talent Desk app works because it is so encompassing. From onboarding, payments and task management etc. It took me a little while to grasp because TalentDesk does so much. However, the new website is definitely how I had it in my mind from when I started.
Are you happy with the final result?
Absolutely. I'm really pleased with it. I think it came out really well and it's been a really good project to be involved in. I think the final result definitely is a nice step on from the previous site. It definitely looks more modern, it's more in keeping with the actual TalentDesk product.
Sometimes I only get to do maybe a home page and a few internal pages for a site and then I hand it over. Whereas in this case, I got to do pretty much every single page which is really nice so I could make sure everything was really consistent across the styling and graphics.
From the development side, it was really nice to work with Graham. It was good to understand some of the constraints that he had as we were going along and for him to adapt the design a little bit if needed so that the website came out as close to my original designs as possible. That does really help, having a good rapport with the developer. So yeah, I say I'm really pleased with it.
What are the top three things that businesses should consider before choosing an agency or a freelancer?
It's two different ways of working entirely. Working with a freelancer, you do get the direct access to them and you're not shielded by an account handler. It's nice to speak directly with a client rather than feeling like you're getting past second hand information. That's a major benefit from my point of view and from what I hear about from clients as well. People like to be able to speak directly with the person involved in the actual design process.
I guess working with a freelancer you are only working with one person, you're not working with a team of people so it may take a bit longer. Freelancers do tend to have a number of projects ongoing at any one time. But one of the other benefits would be from a budget point of view. An agency has larger overheads, more people, so they do have to charge more money. When you're working directly with somebody, all they have is their work from home computer and internet connection. Their cost is a lot lower. I think, from my point of view, you probably get just as good an end result.
I think that the direct access to a client is what makes it work so well, particularly with Zoom. Nowadays, people have just become used to working in that way. Previously, people didn't really want to work remotely, but now, everybody's happy to. I think you can get the benefit from being able to pick a freelancer who could be anywhere in the world and work with them directly, rather than having to use somebody local to you. I think that's a definite benefit for working with a freelancer.

Stefani Thrasyvoulou
Stefani Thrasyvoulou has made her mark in the freelancer industry with four transformative years with TalentDesk, playing a pivotal role in the company's 2x growth.
Speak to us to find out how you can revolutionize your freelancer management
Related articles

Xenios Thrasyvoulou discusses shaking up the employment game, refreshing the tax rulebook, and removing the final hurdles to a super-flexible workforce.