How TalentDesk Uses Wise Business to Pay Contractors Abroad
7 Aug 2023
4 mins read
Posted in
This blog was originally posted by Wise.
Content
TalentDesk.io® offers an end to end solution that allows businesses of all sizes to manage freelancers and contractors, including planning, budgeting, and managing legal compliance. This gives business owners more options for building agile and efficient teams that draw on the very best talent around the world.
One important service for TalentDesk is the ability to pay remote contractors and freelancers with consolidated invoicing and transparent fees. That's why in 2019, TalentDesk started using Wise Business to allow customers to pay contractors around the world with fast and reliable transfers in a selection of global currencies. This case study walks through how TalentDesk works - and the time and money they save using Wise Business.
Stefani Thrasyvoulou, VP of Marketing at TalentDesk, highlights that using Wise Business helps the company to save about 10,000 USD a month on fees - plus Wise integrations and API allow TalentDesk to save upwards of 20 hours a week of admin time.
If you're a business sending more than 100,000 GBP (or equivalent) monthly across different currencies, get in touch with the Wise Business sales team to discuss the best solutions for your needs.
Story of TalentDesk
TalentDesk was launched in 2017 by the people behind popular freelance marketplace site, People Per Hour®².
Having spent years operating in the contractor and freelancer management space, TalentDesk founder Xenios Thrasyvoulou recognised the common challenges faced by businesses using remote and freelance workers and contractors - including how to pay contractors quickly and reliably without excessive fees.
While these challenges used to be limited to larger businesses which may bring freelance management in-house, increasingly, companies are choosing remote and flexible workforces which means early stage businesses and even startups have large pools of freelancers. Managing this resource efficiently was hard work - and so TalentDesk was born.
Xenios explains:
"TalentDesk was founded in 2017, after a big realisation that followed naturally from the development of my first company, freelancer marketplace PeoplePerHour.com. The realisation was, essentially, that the freelance revolution had already taken place.
Savvy businesses were already working with a substantial external workforce, and their biggest pain-point was no longer just finding this talent, (albeit still a pain!) but it was mostly around managing and paying them.
The entire workflow, from onboarding and organising freelancers in a digital directory, to seamless payment and everything in between, was and still is completely disconnected in most businesses. TalentDesk was born to solve that problem."
As ever increasing numbers of companies are facing the challenge of managing a growing, global contractor pool at scale, TalentDesk addresses an important pain point with its all-in-one, end to end freelancer management platforms for the B2B market.
In short, it's a SaaS business that aims to be an operating system in the cloud for all things freelance. The end point for businesses is a truly flexible and empowered workforce that transcends all geographic and logistical boundaries, including freelancers and contractors based globally.
One important challenge this throws up for companies is how to pay international contractors and freelance workers. TalentDesk solves that problem through its partnership with Wise Business. We'll look at how and why, next.
Paying remote contractors
As a fully remote company, TalentDesk understands the challenges of its 100+ customers and more than 20,000 active users. Most of TalentDesk's clients are US-based but there are also happy customers in the United Kingdom, Germany, Latvia, Bulgaria, Canada, Malaysia, and beyond. A key challenge for TalentDesk - and for all the businesses who use TalentDesk's services, is how to pay international and remote contractors. Stefani explains:
"Companies are becoming more global from the get-go by having the ability to make payments internationally, more efficiently and cost-effectively. Fast and reliable payments are more and more important to business operations and that's what we do in partnership with Wise. This used to be a problem specific to big businesses, but now it's faced by most companies from day one."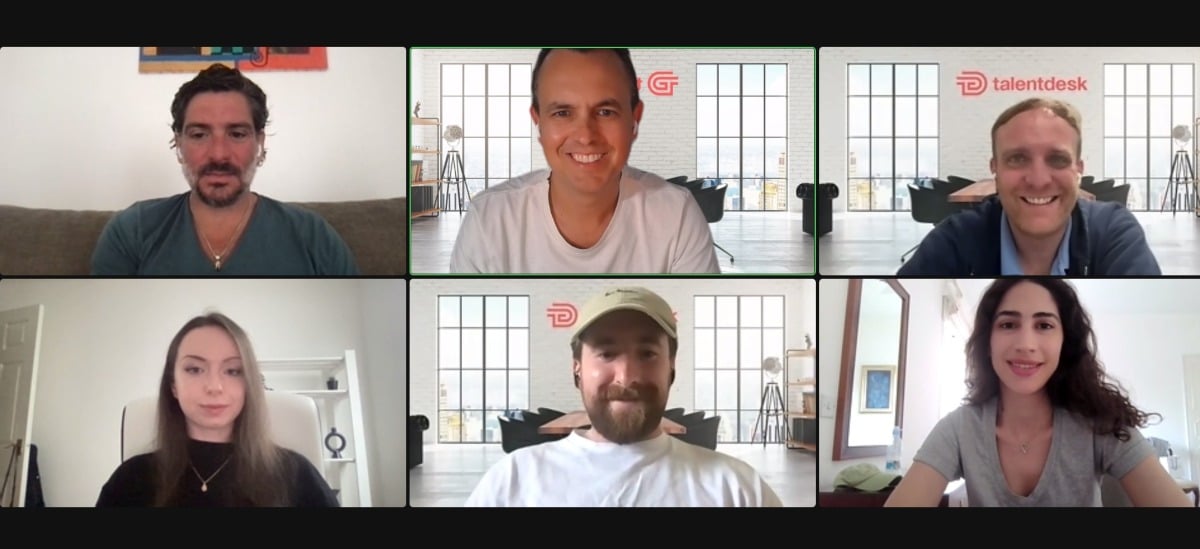 TalentDesk started out handling contractor payments in house. However, making manual payments was a time consuming process and potentially error prone, in addition to being expensive. By moving over to efficient payment systems from Wise Business, TalentDesk has been able to process payments en masse to a growing database of contractors, with benefits in both speed and cost.
TalentDesk works with Wise to send payments around the world in 40+ currencies, with the mid-market exchange rate and low, transparent fees.
With Wise Business batch payments it's possible to send transfers to as many as 1,000 people all at once, with a single spreadsheet, cutting admin time and eliminating the potential of human error you get when processing manual payments.
Payments are deposited into contractor bank accounts directly, with no need to make a manual withdrawal from a separate wallet. It's also possible to pay into alternative mobile money wallets in some countries, where that's the freelancer's preference.
Or, if the contractor has a Wise personal or business account of their own, the funds can be paid there, too. This flexibility means freelancers and contractors get the best possible experience at their end, improving engagement - and the company making the payment can save time, money and hassle, too.
Not using Wise Business just yet? Check out these handy features you get:
Hold 40+ currencies, send payments to 80+ countries, and get local bank details for 8+ currencies
Get business debit and expense cards for yourself and your team, for spending in 160 countries
Exchange currencies with low, transparent fees and the mid-market exchange rate
Make batch payments to 1,000 people at a time - ideal for employee payroll or when paying contractors
Automate workflow with the Wise API
Add and manage user permissions so everyone in your team has the tools they need to do their job
International payments with Wise Business
We've already seen how Wise Business offers a distinctive range of payout options, including deposits to other Wise accounts, direct to banks and wallets. Stefani notes that this results in more options and a better experience for clients and contractors:
"Wise offers payments to local wallet schemes for certain currencies/countries such as Gcash in The Philippines or Mpesa in Kenya etc, which is in addition to its traditional bank transfer capability and this in turn gives our contractors and clients more choice."
Importantly, TalentDesk also gets the support they need to be able to answer, escalate and resolve any payment issues or queries that arise, through a dedicated Wise relationship manager. This focus on service and support is hardwired into the ethos of both TalentDesk and Wise, making their partnership a perfect match.
TalentDesk's contractor payment options, powered by Wise, are also great news for contractors and freelancers, meaning a win-win for all involved:
"Being notified when their payment is on the way and the speed at which we're able to pay people is definitely a winning factor for the freelancers and contractors of our clients. By paying people on time, we're keeping our clients happy and helping them retain their best talent."
TalentDesk was created to answer a growing need for effective and easy freelancer and contractor management processes. Where systems were previously manual and disconnected, TalentDesk offers end to end processes for businesses to manage their freelance resources, and to ensure business efficiency and happy staff.
In partnership with Wise Business, TalentDesk has a selection of easy, low cost ways for businesses to pay their talent in the currencies they need - making it easier than ever to connect to contractors and employees globally, so you get the best team for your business. Check out how Wise can help you build a business without borders, today, with powerful tools to send, spend, hold, exchange and receive payments in a broad selection of global currencies.
Speak to us to find out how we can help you pay your contractors more efficiently
Related articles
How the Right Payment System Allows You to Attract Better Freelance Talent
Updated: 12th of June 2023
Contractor Payments: Everything You Need to Know
This blog was last updated: 12th of June 2023 If your organization has started working with more freelancers and contractors over the last year, you're certainly not alone — over 61% of businesses are actually planning to increase freelancer engagements. While most organizations acknowledge the...