Scalable Workforce Solutions for Digital Marketing Agencies
11 Jul 2023
9 mins read
Posted in
Contents:
If the Great Resignation was making news last year, this year we are seeing the other side of the coin – many global companies are making the headlines for mass layoffs and workforce cuts.
This is largely down to the fact that these companies were unable to predict and manage their workforce requirements well. They went on hiring sprees when business was at its peak, and when they sought to stay ahead of the talent race. Now, they are suddenly finding themselves responsible for massive headcounts of permanent employees and not enough projects to support them all.
Had these employers made use of the 'scalable workforce' model, they could have reduced the impact of such market fluctuations.
What is a scalable workforce?
This is a highly flexible talent strategy that keeps market volatility at its very core. Aside from a team of permanent staff, it includes freelancers, contractors, part-timers, contingent workers and other diverse kinds of workers as a part of the company's workforce. As per this model, these non-traditional workers are just as instrumental to the company' workforce as their permanent employees are.
This enables the company to scale up or down as needed, depending on factors like business goals, market demand and so on. Since workforce scalability is formally structured into the way the model functions, it also enables them to plan for the compliance and legal aspects of having an ever-changing headcount.
Why do digital marketing agencies need a scalable workforce?
Having a scalable workforce is particularly valuable in industries like digital marketing. The top reason for this is the creative nature of their work. Creativity defines the success of a digital marketing agency – and it must be sustained over time.
An agency needs to keep producing unique ideas and more creative campaigns every quarter if they are to stay relevant. They cannot repurpose an old campaign for a new client or afford to ignore any new industry trends and updates. Moreover, the global nature of the industry means that each piece of work might be viewed by audiences around the world. So quality must be maintained, and global mindsets must be catered to.

The services of diverse experts like designers, copy and content writers, SEO specialists, client servicing professionals, performance marketing experts and more, are needed to meet the demands of every new project. That is why digital marketing agencies find it so valuable to have a scalable, flexible and remote team of professionals at hand.
Here's another factor to be considered – many digital marketing contracts are for short-term projects. For instance, a young brand might reach out to an agency to work on just their initial branding activities, to develop their website or to run a campaign for a single event. Agencies that work with small and medium enterprises (SMEs), report a client churn rate of 50% each year. Even though these might be short-term requirements, the agency would still need to provide a full spectrum of services to their SME clients. Maintaining a staff of only permanent employees thus becomes unfeasible.
But even if digital marketing companies have larger clients with longer contracts, market volatility still has a huge impact. It's not unusual to have marketing budgets cut or contracts put on hold during a downturn. Agencies that have a scalable workforce are able to navigate these periods with greater ease.
Finally, the digital marketing field is extremely competitive, with eager new agencies coming up every day. The fact that there has been a 54% increase in the number of digital marketing agencies in the US since 2018 gives a fair indication of how competitive the industry is getting. It also underlines how crucial it is for these companies to stand out with creative work and greater agility.
What are the benefits of a scalable workforce for the employers?
Now that we've explored the challenges and demands that you face as a digital marketing company, let's delve deeper into exactly how having a scalable workforce proves valuable.
It lets you go global, fast

The ability to work with more freelancers and contractors remove any geographical restrictions – both in terms of talent as well as your company presence.

It enables you to engage the best professionals from around the world, which enhances your company's creative capability and brings richer perspectives to your team. This is a significant advantage because digital marketing campaigns are meant for global audiences today, so any work you do will need to exhibit cultural sensitivity and have international relevance.

A scalable workforce also equips you to serve global clients effectively – aligning with their mindsets, understanding local contexts, and setting up a presence in their country quickly and seamlessly, even if it's for a single project lasting a few months.

It reduces staffing costs

Maintaining a team of permanent staff can get expensive – you will need to provide every employee with the benefits, bonuses and perks mandated by your state's labor laws. You will need to pay for insurance, and fulfill your tax obligations as an employer. And this is before you even take into account the equipment costs, training costs, office space and other overheads needed to maintain your staff round the year.

Having a scalable workforce reduces these costs to a great extent. With freelancers and contractors making up a part of your workforce, you only pay for work that they have delivered for your clients. Moreover, it allows you to redirect the costs you save on overheads, and use it to engage more experienced professionals. So not only does it become easier to plan your finances, you also get to ensure a higher quality of work in the process.

It lets you hire the more relevant talent

With new industry innovations coming up every day, the number of specializations within the digital marketing space is immense. However, you don't always need every kind of expert for each project.

For example, when you are creating a website for a client, you may require the services of a UX/UI expert, a web designer, a content writer, an SEO expert and a developer among other professionals. But if you're working on an event-led campaign, you may just need a lean team of a graphic designer and a copywriter.

All of these marketing professionals work as freelancers and independent contractors, so if your company has the capability to work with a scalable workforce, that gives you the opportunity to pivot quickly in terms of team expertise. You can engage the services of all these experts as needed, without making a permanent hire.

It lets you become more agile

Hiring new employees is not just expensive – it also takes time in this competitive industry. Filling an open position with the right talent may take months, especially with a widening skill gap in a lot of marketing domains.

But in this fast-paced industry, this is time you may not always have, especially when you are trying to get a time-sensitive client campaign off the ground. Working with a scalable workforce lets you bridge this gap and stay agile as a digital agency.

It helps build a better work culture

We've touched upon the fast-pace of the industry and the demand for quick turnaround. Agencies that are not able to plan their workforce requirements well, end up pushing this burden to their existing teams. This creates a high-pressure work environment, with long hours and reduced work-life balance – and that's why many industry agencies report a very poor worker retention rate.

Digital marketing companies that use a scalable workforce are able to offer a positive work culture and are more likely to retain good talent. Moreover, marketing teams that have adequate time and mind space are more likely to work productively and produce better creative content.
What are the benefits of a scalable workforce for talent?
A scalable workforce doesn't just benefit marketing employers. It offers immense advantages for the professionals operating within this workforce model too. Here's a look at some of these benefits.
It lets them enjoy flexible work schedules

Being a part of a scalable workforce enables the talent to work on their own time, and choose projects they truly enjoy. It gives them the ability to work from anywhere – whether it is an exotic vacation destination or a smaller town that affords a lower cost of living. This freedom and flexibility are highly prized by creative professionals globally.

This also plays a role in making the industry more inclusive. Talented professionals who are new mothers, caregivers or people with disabilities get a chance to work at their own pace and time – something that traditional work models often do not make space for.

It gives them the opportunity to develop new skills

Those working as freelancers or contractors are not expected to stick to one employer or work only on one specific type of project. They can (and usually do) take the opportunity to try new things, work with different clients and pick up new skills along the way.

This enables them to develop wider perspectives and add a certain richness to their portfolios that would otherwise not have been possible.

It lets them get a foot in the door for permanent roles
Skilled professionals who are a part of a scalable workforce often find their talent opening new doors for them. Good work gets noticed and those who perform exceptionally well in a particular project may get offered permanent roles with the client company. Having worked with the client, these professionals already have a fair view of the company culture, systems, project context and more, so they can make an informed decision.
Such opportunities are also valuable for professionals transitioning back to work after a break – like young mothers or veterans.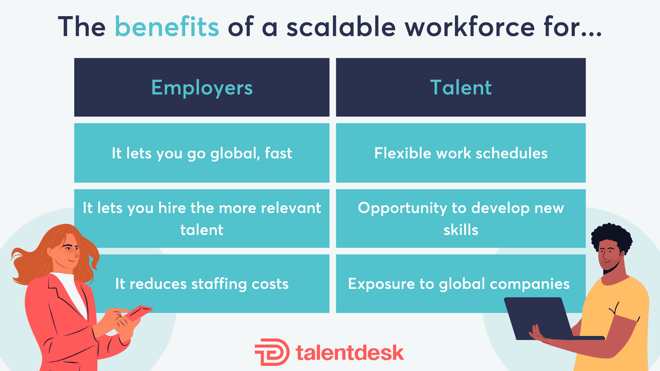 How to establish a scalable workforce
Convinced about the advantages of a scalable workforce, and want to put it to work for your company? Here's a checklist to help you get started.
Establish your company goals

Analyze the way your team works now and establish your business goals over the next few years. This will help you plan out your workforce requirements and understand exactly how and where a scalable workforce would help.

For example, if there are certain business functions where you often experience fluctuation in demand, that may be a potential area where you can have freelancers and contractors stepping in. Similarly, if you are planning to expand to a new market, or are considering entering into a specialized marketing domain that's still evolving, you can consider a scalable team there.

Not only will this early planning let you move ahead in an organized way, it will also tell you what kinds of workers you need to bring on board. Keep in mind that the way you work with freelancers or contractors will be completely different from the way you manage employees. For example, you cannot tell the former when, where or how to work – so if that goes against your business goals, you will need to hire permanent employees after all.

Get stakeholder buy-in

A shift like this requires company-wide planning, so ensure that all relevant stakeholders are on board with moving to a scalable workforce model.

For example, aside from the necessary executive approvals, you will need the required budgets to engage external workers – as well as to procure the systems required to manage and pay them. You will also need to get your legal and HR teams involved right at the beginning so that they can highlight and manage any potential issues related to project compliance, confidentiality or labor laws.

Build and maintain a talent pool

Next, you will have to go about building a trusted pool of freelancers and contractors who can help you scale your operations up or down as needed. This is crucial because it means you don't have to find new workers for every new project – after all, time and speed are of essence when it comes to reaping the benefits of a scalable workforce.

This step becomes particularly easy with a service like TalentDesk. Our TalentMarket offering gives you free access to a ready pool of 3000 top curated freelancers, handpicked from our sister company, PeoplePerHour. We've already vetted these profiles so you know you'll be able to rely on their talent. You can simply browse and filter them by rate, skill, location and other parameters. You can also save your favorites and reach out to them later when needed.

Have the right compliance systems in place

When you are working with a hybrid team of freelancers, contractors and employees, it is mandatory to classify your workers correctly. Any blurred boundaries or overlap in responsibilities can invite unnecessary tax scrutiny, fines or legal issues.

That is why it is so crucial to have the right contracts and paperwork in place from the moment you bring each new worker on board. You will need to know the right forms to fill, gather all the required information, and ensure you adhere to the right labor laws and policies. These laws are frequently updated – and they differ from country to country, which can mean added complications if you're working with a global team.

Many digital marketing agencies find it easier to simply handle compliance through an external entity – like TalentDesk's Agent Of Record (AOR) service. An AOR works on your behalf and takes over your responsibilities around classifying workers, managing contracts, maintaining documentation, and onboarding and paying your freelance talent. Our AOR services let you stay ahead of all changing laws and regulations, thus giving you the peace of mind you need to think creatively and grow your business.

Get talent management right

Once your scalable talent has been onboarded, don't forget to manage them right. While freelancers and contractors work independently and require minimum guidance, you will still need to equip them with the right briefs and information.

If you have multiple freelancers on a single project, all working asynchronously across different geographies and time zones, you will need solid project management tools and communication channels to keep all the tasks in order. TalentDesk's workflow management capabilities bring all these functions under a single platform. This makes it really simple for you to stay ahead of your project, manage all your workers and get a clear view of all the tasks they are handling.

Have the right payment system in place

Finally, don't forget to pay attention to your payment system. This can become challenging with a scalable workforce – you won't have pre-established salaries going out at the same time each month as with your permanent staff.



With freelancers and contractors, you may need to process hundreds of invoices – all of different amounts and all coming in at different times. If you are working with international talent, also factor in multi-currency, cross country payments. Handled manually, it quickly becomes overwhelming. Handled through an automated payment portal like the one TalentDesk offers, it becomes as simple as a single click.

We consolidate all your invoices so you can view all your contractor payments in one place, and make a single payment. Our system then distributes the right amounts to your contractors in over 150 countries and 55+ currencies. You can also handle tracking, reports, audits and more all through our platform.

With these systems and processes in place, you are ready to start moving to a scalable workforce model for your digital marketing company – and reaping the benefits it brings.




Sanhita Mukherjee
Sanhita's experience in the freelancer industry is evident in her role as one of our dedicated content and copy writer at TalentDesk, where she leverages her knowledge and over 10 years of experience to educate others about freelancer management.
Speak to us to find out how you can save time and money with TalentDesk
Related articles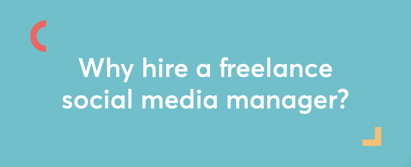 Contents: What does a social media manager do? When do I need a social media manager? Why should you engage a freelance social media manager over an employee? How to hire a freelance social media manager The TalentDesk advantage 'Why would I need a social media manager?' If you have...