Virtual Team Building Activities Your Team Will Love
2 Aug 2022
9 mins read
Posted in
Remote working has become the new normal over the last few years, but what actually is a virtual team? If your company works with multiple people who are all based in different locations, have different skill sets, and report to different people — but are all working towards a common goal, then you've got yourself a virtual team.
At the peak of the COVID 19 pandemic, most companies shifted to a virtual work model to maintain business continuity. But this format remains relevant even now that offices have opened up again. Over the last couple of years, employers and employees have realized the innumerable benefits of remote work – both from a personal as well as an operational point of view. Moreover, most organizations have come to rely on external workers like freelancers or contractors for many of their day-to-day requirements. So it's not surprising that they do not want to sacrifice those advantages now.
In fact, very few organizations are going back to working exclusively from the office. According to one Gallup survey, 53% of remote-capable companies are expected to operate on a hybrid model while 24% are expected to remain fully remote. Organizations like SAP, Verizon and GitHub are all offering fully remote work options while those like Reddit, Lyft and Spotify have embraced a hybrid model. What's more, most companies are leaving it up to their workers to choose what works best for them.
---
Contents
Hybrid and virtual working: The human challenge
5 benefits of virtual team building activities
Top 18 virtual team building activities [2022 updated]
Hybrid and virtual working: The human challenge
Unsurprisingly, the reduced commutes, the flexibility and the higher degree of work-life balance have prompted most workers to opt for remote or hybrid options. But this puts a unique challenge on businesses, when it comes to the more human aspect of work – namely, how to keep their workforce engaged, inspired and connected with one another.
This was already a major consideration when teams were fully in-person or fully remote. Now, when you take into account the fact that team members will be logging in from various locations, at different times and may or may not be in the workplace on the same days, the challenge becomes even trickier. So if you've noticed team morale getting low in recent times, organizing some virtual team building activities are a good way to start putting that right.
5 benefits of virtual team building activities
1. Improves morale
Virtual work (for all its benefits) can end up having a negative impact on mental health over time if it's not planned in a sustainable, mindful way. According to research, 20% of remote workers report feeling lonely, while another 20% say they are facing issues with communication and collaboration. Virtual team building activities are a great way to combat this feeling of isolation and disconnect.
2. Builds interpersonal relationships
When colleagues only talk about deadlines, deliverables and project updates, it makes their relationships very clinical and transactional. Humor, banter and social contact beyond work are instrumental in building bonds and establishing empathy. Now, given that people may not be in the office at the same time, pulling off such interactions in person may be difficult. Virtual activities can help you bring those water cooler moments into your digital workplaces.
3. Creates an inclusive environment
Colleagues who have been in your team since before the pandemic likely know one another well, while those who have joined the team more recently may not have had a chance to form such bonds. This can inadvertently make your work environment feel clique-ish, with the newer team members feeling like they are looking in from the outside. Similarly, those who have chosen to work remotely often end up feeling like they are missing out on good opportunities, with the in-office workers enjoying more visibility. Virtual activities are a good way to go about leveling the playing field and bringing everyone on an equal, more comfortable footing.
4. Improves collaboration
Digital collaboration takes away the chance to observe body language and other unspoken cues, which is one of the big challenges of remote and hybrid work. Virtual team building activities give people the opportunity to learn each others' communication habits, and familiarize themselves with how other team members think, feel and speak in a virtual space. This translates to valuable benefits when it comes to work too.
5. Helps convey company culture
Your company could be driven by equality, sustainability, mutual respect or other equally important values – but someone who has recently joined the team and works mostly from home might never see that in action. Virtual team building activities offer a neutral, relaxed environment in which you can convey the values and beliefs that are important to your organization.
Before you go about organizing events and activities for your entire team, do keep this important factor in mind. Social interactions don't always translate well online and it may take some time to break the ice. Besides, some of your other team members might already be suffering from Zoom fatigue, so you must ensure that these activities don't add on to that. So what kind of activities can you host that will be easy to pull off, be fun for your team, and leave no scope for awkward silences? Here are some great ideas:
Top 18 virtual team building activities [2022 Updated]
1. Virtual cocktail party
Post-work drinks with colleagues may not be feasible for a geographically scattered hybrid team, but a virtual happy-hour party ensures that you don't have to give up on those fancy cocktails altogether. Send everyone a deconstructed cocktail kit (which usually includes everything from the alcohol base to a variety of mixers, bitters and garnishes) and then show them how to put together some delicious cocktails over a video call. For an extra bit of fun and glamor, have everyone dress up for the event. You can also hire mixologists and bar event organizers to make such parties even easier to host.
2. Culinary experiences
Nothing brings people closer like cooking and enjoying a meal together — and an online cooking experience enables your virtual team to do just that. Some cookery schools and culinary firms now host interactive cooking classes, where not only do they send everyone the ingredients, but also have a trained chef guiding your team through the process of putting together a delicious meal. Once the class is over, just pour out a glass of wine and enjoy the scrumptious home-cooked meal with everyone.
3. Murder mystery
Fans of closed room mysteries and true crime podcasts will love this one! This is where you and your virtual team work together to uncover clues, examine evidence and eliminate suspects to solve a murder mystery (usually in a spooky manor!). Such collaborative activities promote teamwork and build problem-solving skills — but above all, they're a lot of fun. Many virtual team building organizations host such events, but once you know the format, you can build a mystery yourself too.
4. Team building Bingo
If you're looking for something that's a little more personalized to your team, go for a simple game of Bingo. Just download a blank Bingo board template, fill in your own clues to reflect some quirky team habits or inside jokes, and send them around to everyone. This is also great for 'Get To Know You' sessions or when someone on your team has a birthday — just put in some clues specific to them, and wait for hilarity to ensue as everyone starts checking off the boxes one by one.
5. Karaoke contests and lip sync battles
These are great ways to help your remote team members let their hair down and sing their hearts out! These sessions are quite easy to host. Get each person to choose their song, and then have the karaoke version with the lyrics running on screen. The only thing you need to ensure is that only the singer has their mic on! For lip sync battles, two participants are chosen at a time, to go up against one another. Their song of choice comes on one at a time, and they take turns in lip syncing to the lyrics with their videos on. Bonus points for drum solos and air guitar riffs!
6. Virtual city tours
This one is ideal for helping your geographically distributed teams feel closely bonded. Here's how it works – a team member from a different city or country, wears a GoPro and goes on a bike tour to show their colleagues the local views and attractions that their city is known for. It's a very interesting and experiential way for teams to absorb some of each other's cultures and lifestyles.
7. Online lunches
Aside from the more structured activities, your team is sure to be missing the banter and the easy camaraderie that they enjoyed during their lunch hour. To keep this going, schedule a team lunch once a month (or more frequently, if that's what everyone prefers). Let people order in a meal and expense it to the company account. Then, just connect over a video call to eat, chat and laugh together — no agendas or shop talk allowed!
8. Sociable group chats
If everyone on your virtual team has come to dread the Slack notification tone, now's a great time to change that. Create some group chat boards or channels where people can come together to discuss sports, books, movie recommendations — or even just the weather. These organic, water-cooler conversations can go a long way in helping people get to know each other, find common interests and build rapport.
9. Collaborative playlists
One of the best parts about working from one location is getting to know what music your colleagues are listening to, and maybe even discovering some brand new artists. Make sure your virtual team doesn't miss out on that by encouraging everyone to share their favourite playlists through a music streaming app. You could even compile the most recommended tracks to create 'Party', 'Power Hour' or 'Mellow' playlists for everyone to share and enjoy. You'll be surprised at how effectively you can set a vibe or improve morale through music.
10. Blind origami
Given how much your virtual team is relying on effective communication these days, it doesn't hurt to sharpen their skills of listening, expressing themselves, and giving and receiving feedback. A 'Blind Origami' session enables you to do this in a fun, effective way. This activity involves breaking people up into teams of two. One person from each team receives origami instructions. They then have to guide their partner verbally through each step to successfully create a unique piece of origami art.
11. Ice breakers
You know your colleagues' work patterns, strengths and pet peeves — but have you had a chance to meet their wild side yet? Why not host some ice breaker sessions at your next virtual Happy Hour? Games like 'Two Truths And A Lie' are always a hit. Alternatively, you could try something different – like asking people to answer a few questions or send in some surprising facts about themselves beforehand. During the session, everyone has to match each answer or fact to the right team member. Such virtual team building ideas are especially great if you have some new people on your team, who haven't had the chance to get to know the others yet.
12. Virtual escape room
Pull off a heist, survive an apocalypse and outwit a supervillain (all virtually, of course), by signing your team up for an Escape Room game. This is where your team is given a unique challenge and they have to work together to crack codes and solve clues to 'escape' and win. There are many companies that host such escape room games, but Escape Live is one that we swear by.
13. Bring Your Pet to Work Day
One of the best things about working from home is all the extra time people have had with their pets. Now's a great time to finally put faces to all those woofs and meows you've heard in the background of all those Zoom calls. Have a 'Bring Your Pet to Work Day' where people can introduce their furry friends on video, and share photos, anecdotes and stories. This is an adorable way to get to know your team outside their work responsibilities. And who knows — you may even encourage some of your colleagues to adopt a pet of their own!
14. Board game night
If you would like to offer your virtual team the chance to socialize in small, more intimate groups, hosting a board game night is a fantastic idea. Tried and tested games like Pictionary and charades are always popular. However, you could always provide more options through apps and websites that offer VR versions of your favorite board games. Leaderboards, progression levels and prizes can make things competitive and add more excitement to the fun and games.
15. Movie nights
Go classic with a good old movie night. Host a poll beforehand, asking people to choose between some movie options. On the day, send them some quintessential movie theater-themed snacks like popcorn, nachos and candies. Once everyone is settled in with their food and drinks, stream a movie through conference calls. Alternatively, if everyone is logging in separately, you can use apps like Teleparty to ensure their videos are all in sync. Don't forget to have discussion boards to let people share their thoughts, reactions, and plot theories afterwards.
16. Celebrate personal milestones
We've all been working remotely for a while now, and a lot may have happened since your team members last met one another. In the past, things like weddings, a new house or the arrival of a baby would usually have been announced and celebrated with everyone in office — but these things tend to get missed for virtual teams. Taking just half an hour out of the workday to celebrate these milestones go a long way in making people feel valued and well-connected to everyone else. Hop on a conference call, get flowers and gift cards delivered or send them a cake to be cut with everyone on video — these celebrations can be as simple or elaborate as you choose.
17. Fitness challenges
Many people are finding it tough to work out or stay fit right now — so this is an amazing way to look after your team's health and make personal fitness fun for everyone. Host 30-day fitness challenges, step count contests and even healthy eating challenges to motivate people to get up and get some movement in. Tech wearables like fitness trackers and smart watches, or even phone apps can help your team track progress, compare results and indulge in some (literally) healthy competition.
18. Guided sessions for meditation
Don't forget to focus on your team's mental health too. This is something you can organize mid-week, or even on Monday mornings so as to start the week on a positive note! Simply ask everyone to switch off their phones and notifications for a while, sit back in a comfortable spot and then let their mind take over. Sessions like this can be hosted by your in-house wellness expert if you have one – or you can use a guided meditation app like Headspace or Calm. Some wellness services like Insight Timer offer expert-led meditations sessions in multiple languages, which is very useful if you have a highly diverse virtual team.
---
At the end of the day, virtual teams thrive in inclusive, empathetic systems that nurture human connections and make people feel valued. While remote team building activities certainly are an important part of this, the sense of belonging and inclusivity can and should be established in broader, deeper ways.
A platform like TalentDesk enables this right from the moment a new member joins the team. It fosters a sense of belonging by easing hiring processes and making onboarding simple and streamlined. This ensures that no new worker has to spend their first few days seeking access to relevant systems and feeling left out until they are added to the crucial collaboration channels. It also helps you maintain an open line of communication with everyone on your team. This minimizes miscommunication, ensures that tasks and deadlines are clear and transparent, and that there are no unnecessary hitches in the workflow. This keeps your virtual workplace running seamlessly, and contributes to a feeling of satisfaction and fulfillment for everyone in the team, even if they are thousands of miles apart.
With these crucial virtual team management protocols taken care of, online office games, social sessions and fun activities can really make your team unstoppable.

Sanhita Mukherjee
Sanhita's experience in the freelancer industry is evident in her role as one of our dedicated content and copy writer at TalentDesk, where she leverages her knowledge and over 10 years of experience to educate others about freelancer management.
Speak to us to find out how we can help you pay your contractors more efficiently
Related articles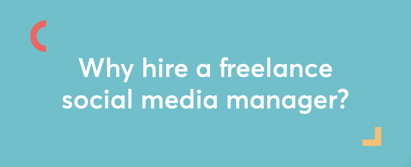 Contents: What does a social media manager do? When do I need a social media manager? Why should you engage a freelance social media manager over an employee? How to hire a freelance social media manager The TalentDesk advantage 'Why would I need a social media manager?' If you have...