What Are Distributed Teams And How to Manage Them Remotely?
15 Jul 2022
9 mins read
Posted in
Updated: 1st of June 2023
Contents:
5 benefits of distributed teams

Access to top talent globally means better hires, and faster scaling and growth
Increased wellness and employee happiness means reduced employee turnover
It can be cheaper
Fewer distractions = more focus and productivity
Increased team agility

How to manage distributed teams effectively

Hold structured meetings
Use the right software
Set clear and realistic expectations
Does your onboarding process need a revamp?
Create a true team environment
---
No commute, no coffee queue, no one dropping by your desk to ask a 'quick question', what's not to love about working from home? Distributed teams are teams where all the team members work remotely from different locations, and have no central office. And we will get into all the full details below. So why now are distributed teams on the rise?
Many of us have now grown to enjoy working from home, and employers have started to take note, not just of the positive employee sentiment and wellbeing, but also in terms of productivity. Some companies are rethinking their workforce structure and will permanently be offering more flexibility in terms of remote work, however, some companies are taking this concept to an entirely new level. Twitter has already told its employees that they can choose if they'd ever like to return to the office, and companies such as Nationwide, Morgan Stanley and Barclays are discussing huge structural workforce changes. Morgan Stanley's CEO recently said that they would need "much less real estate" in the future, as "we've proven we can operate with no footprint", and Barclays CEO revealed, "there will be a long-term adjustment in how we think about our location strategy...the notion of putting 7,000 people in a building may be a thing of the past".
However, this workforce shift isn't entirely new and fully distributed teams were on the up before the Covid-19 outbreak and imposed lockdown. Forbes cited in an article last Summer, that 70% of employees, even back then, didn't think it was necessary to go into the office, and the trend of companies becoming more flexible has been happening for some time now. In this blog, we take a look at the benefits of a distributed workforce, which successful companies have been leading this workforce transformation, and why this is happening. Also, now that these terms are being thrown around more frequently, we wanted to answer the questions: What exactly are remote teams? What do distributed teams consist of? And is there a difference between the two?
What is a distributed team?
According to McKinsey, attracting and retaining quality talent is a top issue. Companies managed to overcome this barrier by forming distributed teams that work from anywhere. 'Distributed team' is a term that refers to a team where all members are physically located away from each other, operating within different time zones. This could mean team members are working from home, coffee shops, or co-working spaces, but that they are working where no other colleagues are based. For example, you could be a Head of Marketing living in London, managing an SEO Manager based in Bali, a Content Writer who lives in New York, and a Web Designer working out of Amsterdam.
A remote team, like a distributed team, refers to a team where remote workers work away from each other and from different physical locations, but the difference is that with a remote team, not everyone works separately. A remote team is one that consists of a mixture of office-based workers who work from one same office building, and members of the team that work remotely; either from home, a remote office, or from another country. For example, you could be a sales team where most of the teamwork from the HQ in Manchester, but there are some team members that work from home within Manchester, and a few teams dotted around other offices globally, in countries where the company is trying to expand.
Aside from the difference highlighted above, (that distributed teams consist of all team members working remotely, and separately from each other, and remote teams consisting of a mixture of office-based and remote workers) another differentiating factor is that a fully distributed company has no physical office space. It's also been reported that there is a difference in how employees feel; when you're in a distributed team everyone is in the same boat, as no one is working from an office. Whereas in a remote team, some people are in the office and others are working from home, so a sort of 'FOMO' (Fear Of Missing Out) feeling can affect some people. The nature of a remote team is that they're somewhere in between an on-site and a distributed team, and perhaps this is a contributing reason why the distributed workforce model was becoming more widespread pre-lockdown. Let's now take a look at which successful companies are leading this structural change, and why.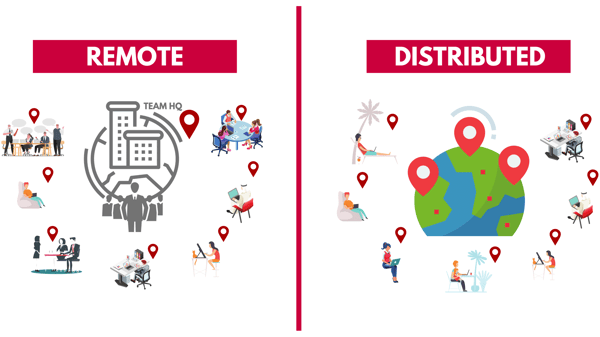 Distributed team success stories
Leading companies in remote teams:
Before the Government imposed social restrictions, companies like Basecamp, Toptal, and Trello had already been embracing remote work for quite some time. Trello, for example, gave employees the option to either work at their office in New York, or from wherever they wished (providing they had a good wifi connection!).
"Team Trello is headquartered in New York City and distributed all over the world. We embrace a remote-working culture that has helped us to build an amazing product that fits the needs of modern knowledge workers, super-organized parents, and efficient project planners alike."
However, some successful companies took flexible working up a notch, and have been operating with a fully distributed workforce. Buffer, Zapier, InVision, and Automattic (the team behind WordPress), to name a few, are part of these progressive companies paving the way for the distributed team model.
Zapier, an API integration tool, has operated as a fully-distributed workforce almost since they started, and decided to stay that way. When they were only at 5 people, spread across 3 different cities, still with no office, they realized a few things:
Features kept getting rolled out
Customers kept signing up
People kept paying
The team was happy
For want of a better phrase, Zapier took the 'if it ain't broke, don't try and fix it' mentality, and as they grew they thought "yeah, this is working...this seems fine. It seems more than fine. It seems good", and that's when they made the decision to remain operating as a distributed company indefinitely.
InVision, a design collaboration and prototyping platform also runs as a distributed company, with 220+ employees spread across 14 countries. This way of working is an intentional strategy coming from their CEO. The main rationale behind this, is that a team that is fully distributed can hire the smartest people no matter where they live and retain their top talent if they want to relocate or even work and travel.
Why are companies adopting this model?
With the mass shift in employee expectations and greater demand for flexibility in the workplace, whether this be down to saving money, being able to travel and work from anywhere, or spending more time with the family; there has indeed been a shift in employee needs and wants over the past decade. Employees are now demanding a shift towards a digital workplace.
76% of millennials place flexibility above their salary and would even take a pay cut to gain more flexibility, and with the average person now spending 90,000 hours at work over the course of their life, no wonder there's been a change in mindset! This has meant that companies have adapted to become more employee-centric and more flexible. With talent being harder to attract and retain, remote working being easier than ever, and agility (especially now) now being key to success, it's little surprise that distributed workforces are on the rise!
5 benefits of distributed teams
Access to top talent globally means better hires, and faster scaling and growth:

Working as a distributed company increases the talent pool and enables companies to hire the best people from all over the world. Also, the flexibility of a distributed team means that companies have access to freelance and contract talent globally too. If you don't need a full-time designer, you don't have to hire one. Working as a distributed team (including with freelancers) means that you have instant access to top experts giving businesses more agility.

Increased wellness and employee happiness mean reduced employee turnover:

If employees wanted to relocate, the traditional 9-5 office-based workplace model only had two scenarios: either accept that you will have to have some remote workers, or lose talent. A distributed model means that companies never have to lose talent based on location. It's also been reported that fully remote working is good for employee wellness and happiness, and it's no secret that happy employees tend to stick with the same company for longer.

It can be cheaper:

Whilst salaries can remain competitive, not having an office space dramatically lowers overhead costs for businesses. Although it's worth noting, that distributed companies often repurpose much of this budget to offer remote perks, and face-to-face team activities throughout the year. Buffer, for example, holds team members retreats around the world, so their employees can see each other in person and bond, and have managed to create an exciting remote team and company culture.

Fewer distractions = more focus and productivity:

There is much research on this, Harvard Business Review even reported an increase of 13.5% in productivity when employees worked remotely. Working remotely means no commute time and increases the amount of time people have in their day, as well as giving employees more freedom. Some people are more creative at night, and if deadlines are always met, does it really matter when the work is done? Working remotely also allows people to focus on their tasks and not get distracted by things in the office, like getting sucked into too many unproductive conversations.

Increased team agility:

Another benefit to running as a distributed company is speed. Naturally, a distributed team model aligns with the 'follow the sun' methodology. This means that a remote team that is fully distributed, with remote workers dotted around the world, have people 'on the clock' for more of each 24-hour period. This enables businesses to respond to opportunities more quickly, as well as client queries, providing a better service which can potentially give them a competitive advantage.
The distributed team model can also be extremely beneficial in helping companies expand and scale in new territories. If you have people on the ground in that new region, working in the same time zone, it can be advantageous for a number of departments such as Customer Service, Sales and Marketing, and a number of reasons such as localisation and response time.
How to manage distributed teams effectively
Hold structured meetings:

Staying connected is vital for every team member, whether in the physical office or working in a team that is distributed. Depending on the needs of your team, meetings can be held daily or weekly, but there is one key best practice for all teams: make sure that your team meetings are structured and that you stay connected. There's a temptation if you haven't seen your colleagues for a while to want to catch up about non-work related things, (and that's totally fine and normal!) but if you're a chatty team, then ensure you have structured catch up time in place for your meetings, otherwise, video calls can turn into productivity killers. For example, if you have a team meeting on Monday and a check-in again on Friday, then put in place 10/15 minutes of catch-up time and when that 15 minutes is over, it's time to talk about business!

Use the right software:

The right remote team management tools are essential to distributed workforce success. Video conferencing and screen sharing software, such as Zoom, is key, as is software to collaborate with and manage your teams, which is where TalentDesk.io can help. A remote employee - whether internal or external - should be able to access securely-stored documents at any time, from anywhere, and be able to track their tasks and projects easily. According to the Economist Intelligence Unit, the performance, mobility, and management of software have a huge impact on productivity, for both traditional, and distributed teams.

Check out how TalentDesk.io can enable you to collaborate with your freelance, contract, and internal teams all on one platform, and empower your teams to deliver amazing work, wherever they are.

Set clear and realistic expectations:

Let's be frank, it can be simpler to ask a quick question face to face when you're sitting next to your team members in an office space. However, this has an easy fix. Throughout all your team communications you just need to be extra clear on setting goals, and KPIs, and communicating deadlines so employees know what they are supposed to do and by when.

Does your onboarding process need a revamp?

Onboarding is important for every team member, whether in the office, or elsewhere, but for new remote workers to become engaged and efficient fast, the onboarding process is critical. Make sure you give new employees access to all the tools and information they need from day one so that they can get up to speed more quickly; and make sure they are made to feel welcome! Easier said than done, of course, especially when you're not having the usual informal chats at the coffee machine or at lunch, so ensure that employees onboarded remotely have a super well-structured onboarding plan. Also, if possible, assign them a mentor to help them settle in smoothly, and introduce a 'go-to' person for all those questions that would normally be asked at lunch.

Create a true team environment!

If not executed correctly, fully remote work can feel a tad lonely; long lunch breaks and water cooler chats can be a little distracting and even unproductive, but we are humans at the end of the day, and we're social beings who want to stay connected. It's important to still keep that feeling of being in a team even when working outside of the office. Some things you can do to inject some fun into virtual teams and keep people motivated is to have non-work-related channels on your team collaboration software, i.e. Slack. This gives virtual team members communication channels to freely discuss hobbies, and share life updates, news, and funny memes. If you have the budget to take it a step further, like Buffer, you should also organize company events and retreats. Although it doesn't come cheap when your team is distributed around the world, having some face-to-face bonding time can be priceless.

Back to top
So, are distributed teams the future?
The future is something we create
As we mentioned above, "Distributed teams" are a team where a particular team works in separated geographical locations and time zones from each other. With all the benefits that the distributed workforce model has to offer, not just for companies, but importantly for employees; this major shift has been a long time coming. It was reported by GetApp that fully remote workers have risen by 400% in the last decade and work flexibility was reported by many, including LinkedIn to be one of the biggest work trends of last year. We are in agreement with the likes of Monday.com and Forbes, and to quote the latter and conclude "Without a doubt, the future of work is distributed".

Melita Merceron
Melita is part of the Marketing team here at TalentDesk.io. Outside of work she's either searching for London's best new restaurant, trying to become a Yogi, or planning her next holiday.
Speak to us to find out how we can help you pay your contractors more efficiently
Related articles

Failure to classify your workers correctly can impact finances, employee morale and your business' reputation. Learn all you need about 1099 employees here