The Ultimate Tools for Remote Work
4 Jul 2022
10 mins read
Posted in
Updated: 19th June 2023
Contents:
---
Remote working, of course, is a common practice in some companies already. Over the last few years, this workplace trend has made it easier for companies to build remote teams and to attract and retain the very best freelancers, gigsters and salaried employees from anywhere in the world. Managers working with freelance or distributed teams may already be used to getting the best out of people they have never met.
However, with the COVID-19 emergency, remote working is not an alternative option anymore — it has become a necessity. From senior executives right down to the newest interns, a bigger chunk of the workforce is going to continue working remotely, who knows for how long! Workers are now also demanding an increased work-life balance. Having an updated remote team management strategy, thus, is essential. Managers are going to have to ensure that every team member works as efficiently and productively as possible. So let us look at some of the best productivity and management tools that can help your organisation succeed in a remote work environment.
1. Freelancer Project Management Tools
Trello
As one of the most flexible and fun project management tools on the internet, Trello should be in the toolbox of every remote team manager. Trello helps you and your remote team stay organised and up to date with every single project. It enables you to track content production all the way from concept to publishing and follow sales pipelines from a lead to a closed deal. It makes it easy to keep track of daily tasks as well as long-term goals. With Trello you can add members of your team to different boards depending on project needs and each team member can update you with their progress along the way.
TalentDesk.io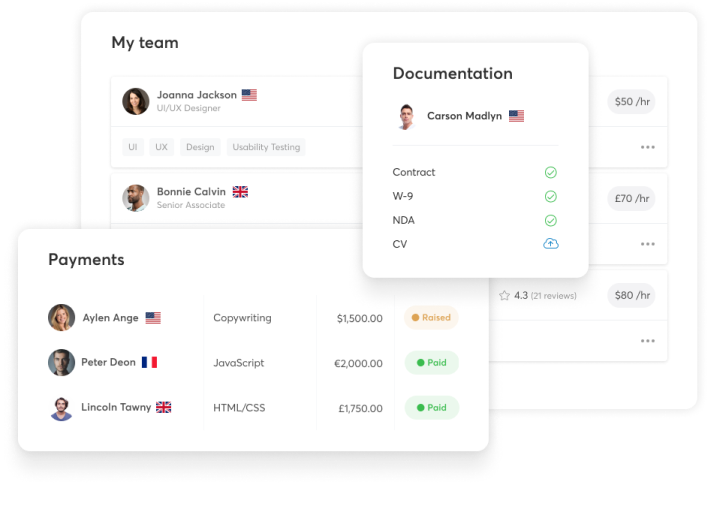 It would be remiss not to include TalentDesk.io in a list of some of the best productivity tools for remote team management. TalentDesk.io is a platform that allows you to easily pay, manage and organize your contractors and freelancers remotely. Businesses can quickly onboard people and maintain a database of the company's entire talent pool, no matter where they are. The platform also lets you filter and search for talent, and easily assign work to the best available people in your directory. If nobody on your database is suitable for a particular task, TalentDesk.io also gives you access to more than 1.5 million talented freelancers via UK's leading freelance marketplace, PeoplePerHour.com.
TalentDesk.io also functions as a remote team management and productivity tool, enabling you to track milestones, budgets, deadlines and maintain visibility across your entire team throughout. It enables end-to-end project management where everyone involved in the project can access and share relevant documents as well as discuss briefs and collaborate on ideas. It basically helps any remote team to stay on the same page when tackling complex projects. The automated invoice processing and payment features can particularly save managers time and effort, allowing them to reinvest that valuable time in managing their team. In short, TalentDesk.io brings multiple capabilities and systems under one single platform, which saves you from having to invest in a variety of team management tools.
2. Team Communication Tools
Slack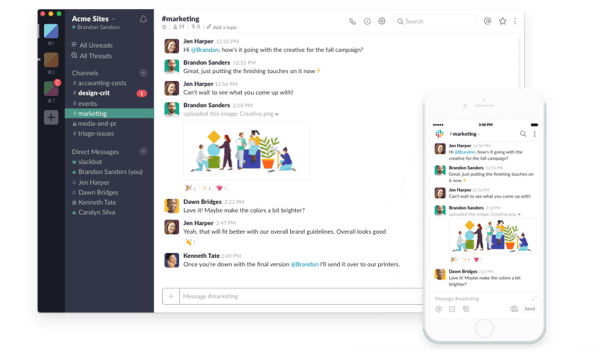 When running a remote team, a communication tool is key. When everyone is sitting together, they can talk to one another, clarify doubts and pick each other's brains whenever required. But when working remotely, these interactions will need to happen digitally. Your team will need a robust all-in-one messaging system, video calling, screen sharing and team collaboration tool like Slack. Accessible from anywhere, Slack offers the ability to set up a channel (chat room) for any part of your business and conduct chats privately or with the whole team. Slack has file sharing capabilities built in too. It also has the ability to connect with other leading apps such as Trello, Salesforce and Google Drive to help you and your remote team to stay connected and productive.
Google Hangouts Meet
Creativity and innovation can sometimes take a hit when team members are working alone from home all day. In such situations, managers need to think beyond just chat apps and enable a few face-to-face interactions. Google's Hangouts Meet is a video conferencing tool that's great for the purpose of managing remote employees. It makes it easy for people to jump on a quick call with their co-workers via a shared link. The app is integrated with G Suite, so inviting clients for a meeting becomes simple too — they can just join in through their calendar or email invites. What's more, in order to encourage remote working practices during the COVID-19 emergency, Google has made this collaboration tool extremely accessible for newer firms and startups too. Users of G Suite and G Suite for Education can enjoy the enterprise version of the tool for free, right up until July 2020.
Zoom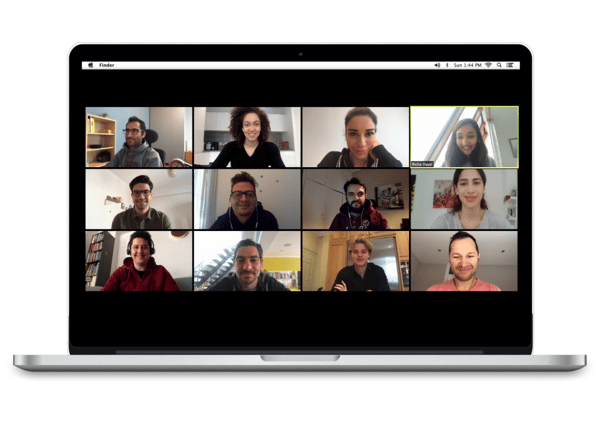 Zoom is a great app for larger remote teams that require advanced video conferencing facilities. It is a feature-rich platform that brings remote workers together, allows them to host and attend video meetings, share screens simultaneously, and record meetings to the cloud for future access. At a time when in-person conferences and seminars are highly discouraged, Zoom offers a great remote alternative with its webinar solutions. It enables multiple panellists to present key thoughts and ideas to over a thousand participants at a time, through video calls. Its webinar Q&A and chat options make it easy to ensure that each session is interactive and engaging when video calling.
3. File Sharing & Collaboration Tools
Google Drive
Google Drive removes productivity bottlenecks by allowing remote teams to share files easily with one another. It enables users to download the app directly to their desktop (or mobile devices) providing instant access to private or shared files. Syncing between devices is automatic, and users can share files and manage projects together from wherever they are in the world. If you produce content, spreadsheets, or share calendars, then Google Drive is a 'must-have' for remote teams.
Dropbox
A lighter file sharing tool, Dropbox may be perfect for smaller teams. With its block-syncing feature, Dropbox lets you make quick updates, and enables your team members to view the changes almost immediately. This makes collaboration a breeze for remote teams trying to work on a single project simultaneously from different locations.
4. Access & Approval Management Tools
1Password
One of the biggest remote team management headaches and productivity drains you can face is your team not being able to access files, data or software when they need it most. Losing precious time resetting passwords for someone else is something we could all do without. 1Password saves managers from having to maintain a password list and remembering who has access to which ones. The tool saves all passwords securely, and enables approved team members to log in to shared platforms with just a click.
Adobe Document Sign
Delivery need not come to a screeching halt without a team manager physically present to sign off completed tasks. Adobe's Document Sign is a small but handy remote team management tool, which makes approvals a breeze. It enables managers and executives to sign contracts, worksheets and invoices digitally, thereby making sure that work within remote teams continues smoothly without compromising on any security protocols.
5. Time Management Tools
Hubstaff
It is very easy for managers to lose track of how much time their teams are spending on different tasks when everyone is working remotely. A tool like Hubstaff proves instrumental in situations like this. It gives managers an insight into what employees are focussing on through the day. Based on this data, they can optimise productivity by setting time limits and putting a cap on the number of hours spent on each project. Managing timesheets and raising invoices becomes easy too, with Hubstaff's automated features.
Harvest
This is another timesheeting tool that lets managers ensure that remote teams are working optimally. Harvest presents a visual representation of dry data, which tells managers exactly where the team is spending their time. This helps you keep a close tab on billable hours. Equally important is the fact that it alerts you when someone in your team is working beyond capacity. This crucial data helps you prevent overwork and burnout within your team, even when you are working from a different physical location.
6. Product Design, Collaboration & Feedback Tools
Canva Pro
Collaborating on design and graphic-related work becomes seamless with a handy tool like this. Canva gives your remote workers access to millions of photos, templates and fonts. It lets different team members save colours and logos, edit layouts, resize photos and make changes to templates, all from various locations.
InVision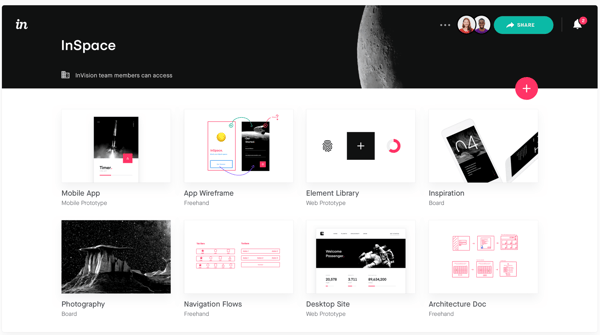 Likewise, InVision is a tool worth exploring for creative and technical teams who collaborate on design and product prototyping projects. InVision connects your entire product design workflow into one powerful screen design tool that then allows the entire team to chip in.
7. Reward & Recognition Tools
Kazoo
Ensuring productivity is not the only challenge managers face when they are handling remote work. Keeping up morale and taking care of employees' emotional well-being is also extremely important at a trying time like this. When everyone is working from home, wins and achievements tend to go unnoticed — and that can be a powerful demotivating factor for hard-working employees. That's why a platform like Kazoo is one of the most important remote team management tools out there. It lets managers call out wins and recognise employees for a job well done. Moreover, it lets other co-workers get in on the action — they can cheer each other on with personal messages and comments. Employees receive points for achievements, which they can redeem for rewards like gift cards and experiences. Overall, Kazoo is a great tool to boost employee engagement and to boost workers' morale.
Bonusly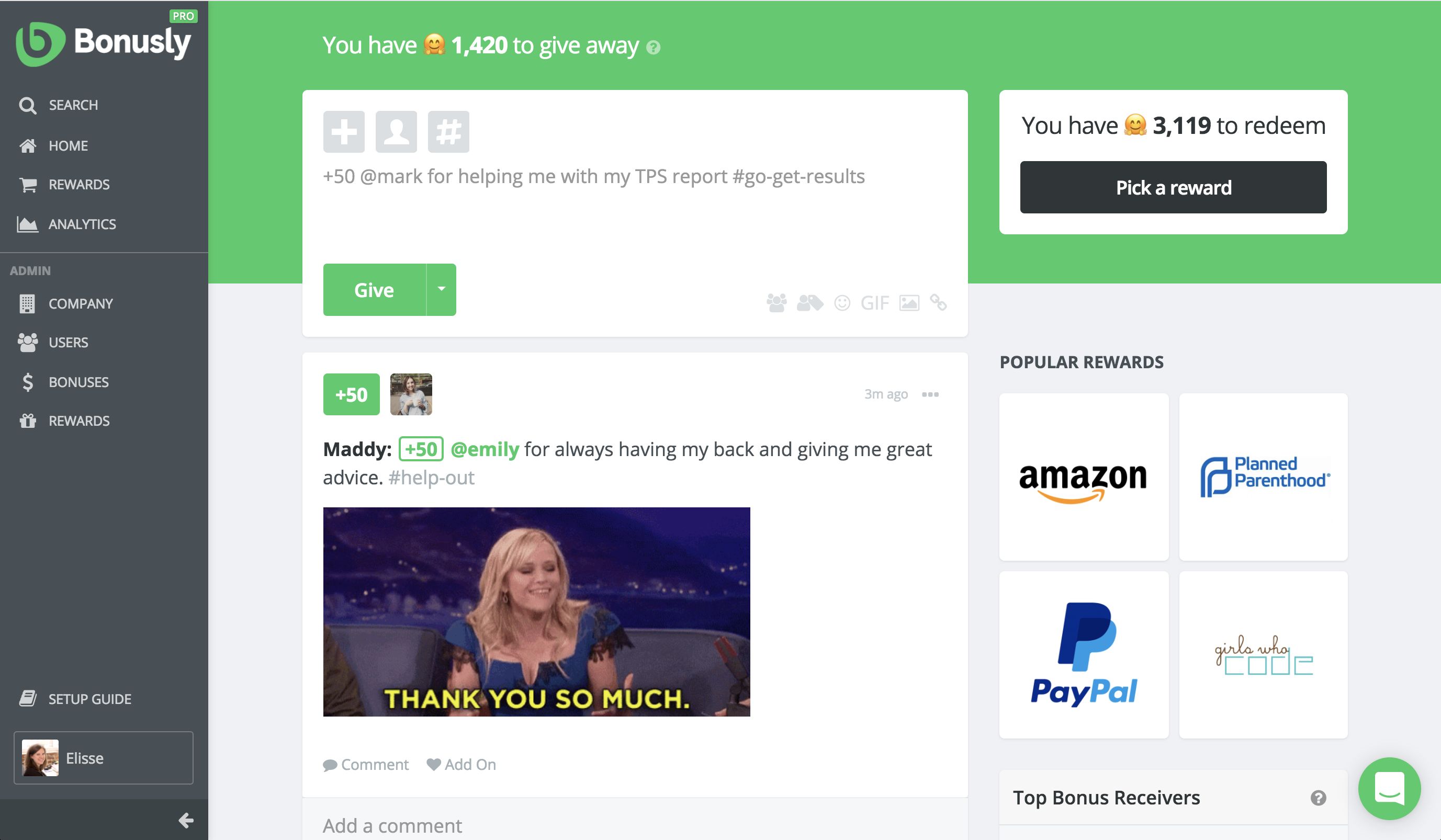 Similarly, when everyone is working alone from home, most of the communication tends to be work-related, while events like birthdays, anniversaries and work milestones slip under the radar. Tools like Bonusly let you highlight and celebrate these events, which in the current isolated environment, can make a world of difference. Bonusly also has rewards and recognition features that let employees show appreciation for one another. People win points not just for performing well on certain projects, but also when they help each other out. These points can then be redeemed for real-world rewards. Such empathetic remote team management tools can help you build a culture of positive recognition, reinforcement and camaraderie.
During a time when change seems frequent, and remote working success is imperative, we hope this list has offered some new and handy tools to help you keep you and your team productive and motivated. While the amount of tools available for different functions can certainly be daunting, there is no better time than the present to start thinking about which systems your business needs in order to continue growing successfully in the new post-COVID climate. According to our recent survey The Future of Work 2020, carried out in collaboration with leading freelancer marketplace PeoplePerHour.com, 77% of businesses are planning to adapt their policies to be more flexible and distributed in the future, while 78% have said they had either already implemented or were planning to adopt remote team management software. But if you're still in doubt, we've narrowed down and listed 5 signs that you should invest in distributed team management below.
5 Signs You Should Invest in Remote Team Management
1. If You're Planning To Use A Flexible, On-Demand Workforce To Grow Your Business
A great thing about working remotely is that normal boundaries like location are transcended. In fact we are witnessing the merging of what we call the traditional workforce, and the freelance workforce, into one unified, mobile workforce; a new, "blended workforce", where the right skills are the only necessity and flexibility is key.
The benefits on the people side are obvious, but more on this in our Future of Work eBook 📖. For businesses, not having the risk of hiring people full-time and being able to find the right skills as and when they need with an on-demand, flexible workforce is crucial. A Remote Team Management system can help your business organise and manage this new blended workforce, bringing together full-time employees, managers, stake-holders and freelancers under one coherent roof with streamlined work allocation.
2. If There's a Lack of Visibility Between Teams
While any good manager knows that delegation is a form of art, there is definitely something to be said about ensuring visibility and transparency across teams and projects in any healthy business, as well as keeping on top of all major milestones.
One of the challenges faced during remote work is that you no longer have open conversations in an office that your colleagues can overhear (although, thank goodness for that). But the downside of this is that sometimes important stakeholders in the business do not have visibility over important issues. So how do you overcome this? Instead of filling them in on an ad-hoc basis, or trying to reach them while they are on holiday, perhaps you need a Remote Team Management platform, where all managers can log in on their own time, and track the progress of projects in real time.
3. If You Think Your Remote Teams Could Be More Productive
Productivity while working remotely is a challenge that we must all confess to, especially when not accustomed to it. It's even more difficult to onboard new members to your team remotely. No one likes the idea of their efforts not being recognised, and this can be particularly difficult for remote hires who are eager to prove themselves but are not as vocal as other team members.
Setting goals can be motivating for everyone whilst working remotely. Tracking performance of teams and projects is a necessary process for every healthy business, and it's also a crucial element for managing teams while remote. A system that can help managers keep project timelines in check and motivate people to improve their performance is the answer to this challenge. Investing in a centralised platform that helps reward efficiency and challenge inefficiency is key.
4. If Hiring & Onboarding is Your Full-time Job, Then It Shouldn't Be
Needing to hire and grow your team is a good problem to have, of course, but what happens when hiring, onboarding and managing new employees becomes your full-time job, when you have equally important things you need to do?
A crucial question to ask yourself before starting the process of hiring is " Are you maximising your existing resources?". Without a system in place that allows you to easily filter through your internal resources by availability and skills, it can be an absolute nightmare to organise your workforce while working remotely. And what if you're spending all that time and money looking for new people, going through the pains of onboarding them and integrating them with your existing teams, when you already have the skills, unutilised? Wouldn't it be great to have a system that allows you to check this within seconds? And if you do of course need to hire someone new for a project, what if you had a system that could automatically allow you to source and match the right people for it within minutes?
5. If You're Wasting Significant Time on Remote Team Admin
No one likes admin, right? 🙄 And because we don't like it, we often ignore it to the point where it piles up and becomes a necessary evil in our business. But what a lot of people also ignore, is that admin equals time and money. For example, have you ever estimated how much time it's costing your business to process invoices and pay your remote workforce (freelancers and contractors) each month? A good starting point is estimating how many invoices your business receives on a monthly basis. A study by Sterling Commerce suggests that a manual invoice costs a business $30 to process on average. While that's not complicated math to do, what's even less complicated, is figuring out how much more valuable that saved time and money could be if you reinvest it into growing your business.
Apart from invoice-related admin, there's also a lot to be said about remote team admin when it comes to creating tasks, briefing people and managing projects. A Remote Team Management System saves valuable admin time by streamlining your processes, automating your payments, and storing all your important information in a centralised location for easy access.

Melita Merceron
Melita is part of the Marketing team here at TalentDesk.io. Outside of work she's either searching for London's best new restaurant, trying to become a Yogi, or planning her next holiday.
Speak to us to find out how we can help you pay your contractors more efficiently
Related articles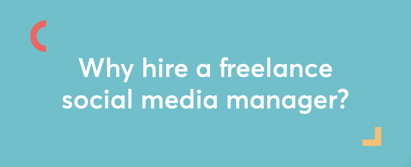 Contents: What does a social media manager do? When do I need a social media manager? Why should you engage a freelance social media manager over an employee? How to hire a freelance social media manager The TalentDesk advantage 'Why would I need a social media manager?' If you have...