15 Jul 2020
6 mins read
Posted in
Welcome to the year 2050. You've woken up, hand-picked your fresh strawberries from your garden for breakfast, and you're now logging in to Zoom for your 9am daily meeting. Did we say Zoom? We meant VRoom (your Virtual Reality chat room and future workplace that has effectively replicated all the sensations of working in an actual office, all while you're wearing your joggers and sitting comfortably on your garden lounger). You've never physically met the people on your high-tech, HUD (Heads-up Display) screen before, but let's face it, it would be weird if you had, given that you live in a beautiful farm house in the middle of nowhere, and they, on the other side of the world.
You do, however, have a faint recollection of what it was like to work in the big city back in the day, in the 10's, right before the notorious COVID-19 pandemic hit, and life changed for good. How funny to think that you once subjected yourself to taking the train to work and back again, every single day. Ah, to think of those days when you were squashed up against someone's armpit in a non-air conditioned tube carriage, always stressed of being late into work, always exhausted. What were you thinking…
The stay-home 20s
And then, the year 2020 struck like lightning, and what a year it's been so far. Do you ever wonder if this could be the start of a very different future for the world of work? If so, you're not alone. We recently sent out a survey in collaboration with our sister company PeoplePerHour.com in order to understand how businesses have adapted to COVID-19, and what the workplace of the future looks like, for all of us. Here's what 260+ businesses have shared with us, and how we envision the future of work.
Working from home - Pros & Cons
Whilst we can't say that working from home doesn't come with some challenges (think crying toddlers, distracting dust balls in the corner), it seems that more than 1 in 2 businesses claim their team is now happier due to an improved work / life balance. 1 in 3 also state that decision making within their company has become faster and their teams more productive. This suggests there may be some truth to the idea that happy employees are also more productive.
More than 1 in 10 businesses have admitted that they were not prepared at all for the shift to remote working. According to a survey by the World Economic Forum, businesses that are heavily dependent on traditional ways of working have been the hardest hit in terms of adapting; healthcare, retail, mining, manufacturing and automotive topping this list. Conversely, least affected sectors include high tech, education, insurance and telecommunications.
16% of businesses also claim that decision making has become more difficult within their business. The statistics seem to match up; if you're not prepared - i.e. you don't have the right set of tools to ensure projects are managed efficiently and communication between your remote teams is smooth, it would of course be harder for decision makers to have all the relevant information needed at hand.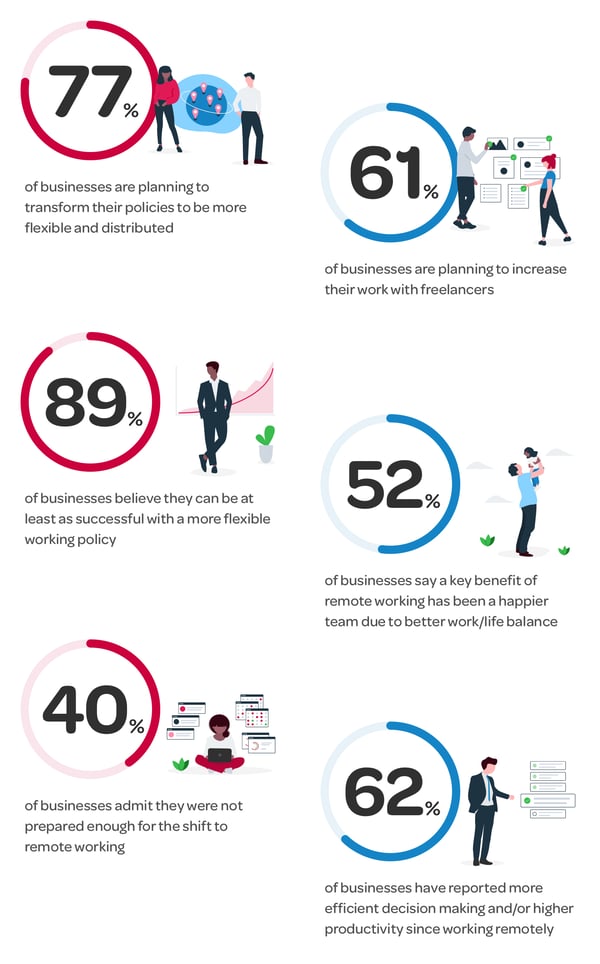 Another key challenge that many face when turning their home into their workspace, is being able to demarcate the two. In fact almost half of business leaders admit they are finding it harder to switch off and take breaks from work as a result of working from home. Whilst this might lead to longer working hours, which in reality any business owner may not classify as a negative, this is not always ideal for our mental health, and may also result in employee burn-out. In fact, one of our survey respondents has commented "I actually made sure to switch off more, because of the world situation, I knew I needed to take care of myself better, to be able to navigate all the emotions." Seems like a wise tip. *Makes note to oneself*.
The Role of Software
As expected, the overnight shift to remote work has caught many businesses off-guard in terms of suitable software needed that would enable them to continue BAU. Unsurprisingly, 75% of businesses told us they had either recently used or were planning to use software to manage their remote teams. The most popular choices seem to be Video Conferencing and Collaboration & Team Messaging software, with Project Management and Payment Solutions trailing not too far behind.
👉HAVE YOU READ OUR ARTICLE ON THE TOP 12 TOOLS FOR VIRTUAL COLLABORATION?
In fact, at TalentDesk.io we've witnessed a 32% rise in traffic since the beginning of lockdown, with many of our leads on the look-out for a tool to manage and communicate with their entire distributed workforce - internal and external - through one centralised platform.
For many, what started off as a temporary situation (we don't know about you, but we left our entire lives on our desk back in the office thinking we'd go back in a couple of weeks!), proved to be the "foreseeable future". And, if we think about it, why shouldn't it be? If we all take a step back and look at this whole thing as one big, bold experiment whereby business, and - to be fair - human survival are the dependent variables, let's be honest and admit that it actually works. Accidental experiments are just as valuable as planned ones; and there's no denying that for a lot of traditional industries, it has served as a nudge, or more precisely a violent shove, to invest in the right tools and infrastructure for remote work. If we admit that the survivors of COVID-19 have been by majority resilient, adaptable businesses that were already set-up for remote or distributed working, bigger corporations can no longer defy the proof in the pudding - with the right set-up, remote working works!
From our survey, a whopping 89% of businesses have said they believe their company can be at least as successful with a more flexible working policy. In fact, more than half of businesses have said they are planning on implementing more flexible working, while 1 in 4 are planning on a distributed working model, which essentially means they won't even have a central office, and employees can choose to work from anywhere in the world. Anyone else thinking of an exotic island set-up right about now?
Whilst we are not suggesting that human interaction and life in the office doesn't come with its perks, it seems that most people are now starting to get used to WFH life, and if given the option, would prefer the opportunity to work remotely for the majority of their working week. It makes sense, does it not? While we all miss getting dressed up in our crisp, freshly-ironed shirts and looking mighty important for that face-to-face meeting, we'd also bl**dy well miss the freedom of working on our couch on a rainy day, getting stuff done at our own pace without the watchful, always-judgemental eyes of our manager who glances at your screen every single time they get up to go to the loo.
📑REMOTE TEAMS VS. DISTRIBUTED TEAMS: WHAT'S THE DIFFERENCE?
Putting the "Free" back in Freelance
61% of businesses from The Future of Work Survey 2020 are planning on working with more freelancers for projects in the next few months, showing that flexibility is key on either side of the coin. The majority of businesses have said they are looking to collaborate with freelancers for their Marketing & Sales (52%), and Web Development & Design (57%). Business Strategy (17%) and Innovation / Entrepreneurship (12%) are also a popular choice, suggesting that perhaps businesses are using this period to re-think their business. Lucky for them, the supply of skilled freelancers won't be a problem. With a lot of businesses sadly having to furlough or let go of people, freelancer marketplace PeoplePerHour.com has seen a 300% surge in freelancer sign-ups since the pandemic.
In summary, flexibility and freedom to work when and how people choose seems to be the clear direction we're heading in.
Is There Life on Mars?
All of the above considered, it's safe to say that COVID-19 has changed the face of work, forever. With technology being the key enabler of remote work, remote locations might very well witness an influx of people wanting to reside in rural areas full-time. And why not? Rent outside big cities is cheaper, air is cleaner, space is copious and life is just easier, whichever way you look at it. Why would people turn down the option of growing their own vegetables, working out free-of-charge in the fresh countryside air as opposed to in an over-priced, fancy gym with poor ventilation, and having an extra ten hours a week from commuting to relax, unwind and focus on their hobbies. This could actually be a huge come-back for hobbies. Don't know about you, but I haven't had the time to have one since I was about 12.
So as long as there is Wifi, and good coffee, our future office could be anywhere in the world. All thanks to technology; that very thing that we were once afraid would take away some of the more traditional aspects of our life - could be the thing that enables us to go back to a healthier, more natural way of life, whilst we are able to do the same challenging job that we love.
To end, we're still not sure whether there is actual life on Mars of course, but if we look at it from David Bowie's metaphorical point of view and ask ourselves whether there can be life beyond the mundane somewhere out there, then we're pretty sure we can say "Yes, there is life on Mars. As long as there's WiFi".

Stefani Thrasyvoulou
Stefani is part of the Marketing team at TalentDesk.io. When she's not working or listening to music, she loves reading and writing about any topic under the sun.
Speak to us to find out how we can help you pay your contractors more efficiently
Related articles
Why AI Can't Replace Freelancers and Take Over Jobs
When we last wrote about how automation & AI will change the way businesses work with talent, I don't think we expected the levels of automation that we are currently experiencing with the likes of GPT-4.