4 Nov 2020
6 mins read
Posted in
Pre-2020 the idea that so many businesses globally would operate as virtual companies, with remote and distributed teams being the norm was quite a foreign thought. However, gone are the days where employees all commute into the same central headquarters, with each and every employee clocking in from at least 9-5, Monday to Friday. Times have changed, and so has the structure of today's workforce and the way that smart managers and business owners lead their teams. With greater work flexibility, has come a more productive and loyal workforce, and also a vastly wider talent pool, with hiring limitations now contingent on technology and having fast WiFi as opposed to where people are based. So, before we get into why someone would set up a virtual company and what can be done to achieve success operating this way, what exactly is a virtual company?
Contents:
What is a virtual company?

(Back to contents 🔝)

A fully virtual company is a company that operates with no physical office space, everyone works remotely. An example of a virtual company to a lesser extent, is a company where most of their departments work remotely, but they may have some company property to pack and store products, e.g. an eCommerce company where Marketing, Sales, HR and all the other core departments that would typically work in a head office work remotely, but the business still has a big warehouse to store and ship stock from. An example of a fully remote company is a software company that doesn't require any company property at all. The company can operate with distributed teams, with all employees working remotely, not from company owned locations.

Why set up a virtual company?
Traditional businesses can be expensive to set up, and there are often a number of upfront costs, as well as long-term agreements and leases that need to be sorted out. However, one of the key benefits of setting up a virtual company is that they require no investment in terms of physical space, so from the offset offer the benefit of being less risk and less commitment. For example, as virtual company employees work remotely, there is no need to invest in a pricey city-center office.

The ease of set up
There are definitely some sectors and industries that suit operating as a virtual business far better than others, and in fact, not all businesses can operate as virtual businesses. For example, although some people are happy to buy cars through checking out specifications online, others might want to test drive their shortlisted options and experience if their number one pick is a smooth drive, if it's comfortable, and if the colour they like online looks exactly the same shade in person. Many companies, including most traditional car dealerships would also need company property to store their good, so for now at least, it seems that not every company can or will be heading towards becoming fully virtual.

However, there are some sectors and types of businesses that are more naturally suited to be operated as virtual companies, for example software providers, online publishers, and creative agencies don't necessarily need any physical space. For companies that are able to operate in this way, the barriers to entry are fairly minimal, and starting up a virtual business can be quite streamlined.

More freedom
Since virtual companies operate with a remote workforce you can be more flexible about when, where and how you work. Virtual companies focus more on performance and output as opposed to strict traditional 9-5 hours. Hello morning meditation, lunchtime gym sessions and healthy homemade food, and goodbye long commute, waiting for the tube in the rain and working from the same desk every single day.

It's simpler to scale
Without the burden of too many long-term commitments, and much fewer overhead costs, company revenue is more disposable and easily accessible, and can be put back into developing and growing the business. For example expanding the team and company into new regions, increasing work with expert freelance talent, or investing in vital software to enable teams to achieve their best work.
5 ways to enable success working as a virtual company
1 - Hire the right people
2020 has demonstrated that some people have loved working remotely, and in fact many see remote working and distributed teams (TalentDesk.io included) as the future of work. However, although even us remote work supporters, do at times miss the buzz, and social side of office life, there are others that are gagging to get back to 'normal' and haven't enjoyed working from home as much (Check out our Future of Work eBook for more on this topic). It's important to keep this in mind when hiring, and to ask interview questions accordingly. Some people thrive working remotely, and are more productive, and there are others that don't work so well from home, for a number of reasons such as distractions, or the lack of face-to-face time being a morale killer for some.
A successful virtual company will ensure that in the hiring process they are seeking out the characteristics of a successful virtual worker. Skills such as the ability to work well autonomously, having great time management skills, self-motivation and the ability to focus on the task at hand as well as keep in mind the 'big picture' and overall goal of a project.
2 - Be flexible: micro managers need not apply
Of course you need to ensure that work is completed and the team are performing well, but as a virtual manager you can't and you shouldn't try to micro-manage every task, as doing so can reverse the positive impacts remote working has. To ensure that your team are empowered to achieve their best work virtually, you should set clear and realistic goals, deadlines and expectations, as well as providing the right tech stack so that your team have all the tools they need to deliver. Smart leaders also put time in for mutually agreed check ins on progress, and most importantly, maintain a results orientated culture. The best virtual team managers are ones that focus on productivity, output and met deadlines, rather than focusing on policing hours worked.
3 - Communication is key
Virtual companies that thrive are ones that conduct regularly scheduled meetings to check in on progress. At TalentDesk.io we have a quick stand up at the start of each day to ensure we're aligned on our thinking on any joint projects. Although we only connect for 15 minutes, it gives everyone in the team a chance to ask each other any questions so that tasks don't fall through the gaps, and keep us in regular contact so we're all on the same page. However, it's not just scheduling in regular touch points that are important, it's also vital to virtual company success that a company's tech stack supports easy communication so that working together whilst apart is simple and effortless. For more on the right tool and platforms that can help achieve this you can check out our blog, 12 tools for virtual collaboration.
4 - Harness the power of technology
Shifting from operating as an office based company to a virtual company can be challenging for some, but for others it can be fairly seamless, why is that? There are a number of reasons for this, but one of the key ones is having the right technological infrastructure in place. To be able to thrive whilst working virtually companies need to think beyond the obvious platforms needed, such as video conferencing software. There are a number of other platforms that can make working remotely more effortless, and some that are critical, check out some of the options that should be considered below:

Project management tools

Remote and freelance team collaboration tools

Team communication tools

File sharing and collaboration tools

Access and approval management tools

Time management tools

Product design, collaboration and feedback tools

Reward and recognition tools

For further information on this you can visit our blog 15 productivity tools for remote team management.
5 - Understand the importance of FaceTime and face time
Seeing each other virtually using the likes of Zoom and FaceTime are important, but virtual companies that are the most successful, are ones that find ways to meet, not just virtually, but in-person. This is important because although teams are perfectly capable of working well together whilst being remote, face to face meetings can help to bring the team together, develop relationships and encourage networking. This doesn't only have a positive impact on team morale, motivation and company culture, but also can result in enhanced performance. Team members that know each other and know more members within the wider team and company can work more effectively and efficiently, just see what the Chief of Special Projects at Buffer has to say on this. Although everyone at Buffer works remotely, they all look forward to the annual retreat, an event that has taken place for the last 10 years, and something they choose to invest in because they tangibly see the benefits it brings to the company and its people.

For companies where an annual retreat is not viable, informal and more casual zoom meetings can be a good substitute, and if possible the occasional team lunch so you have time to see each other in 'real life'. At TalentDesk.io for example, we schedule team happy hours quite regularly, so we keep that social element of work alive and have a chance to catch up about non-work related things. We also ensure that whenever a new person starts we do the same thing so that they feel welcomed, as starting remotely for the first time when you're used to working in an office can be strange (For tips on how to manage a virtual team and how to onboard virtual starters, check out our blog on distributed teams).
To conclude, there are a number of reasons why people would want to set up a virtual company, that benefit business owners, and the employees that work with them. Although not every business suits working virtually, for the lucky ones that can, we hope we've helped you understand how you can best lead your team and be successful as a virtual company. If you'd like more information on this topic or to understand how our platform TalentDesk.io can help you transform your virtual business operations, do get in touch with us!

Melita Merceron
Melita is part of the Marketing team here at TalentDesk.io. Outside of work she's either searching for London's best new restaurant, trying to become a Yogi, or planning her next holiday.
Speak to us to find out how we can help you pay your contractors more efficiently
Related articles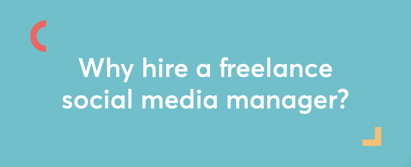 Contents: What does a social media manager do? When do I need a social media manager? Why should you engage a freelance social media manager over an employee? How to hire a freelance social media manager The TalentDesk advantage 'Why would I need a social media manager?' If you have...